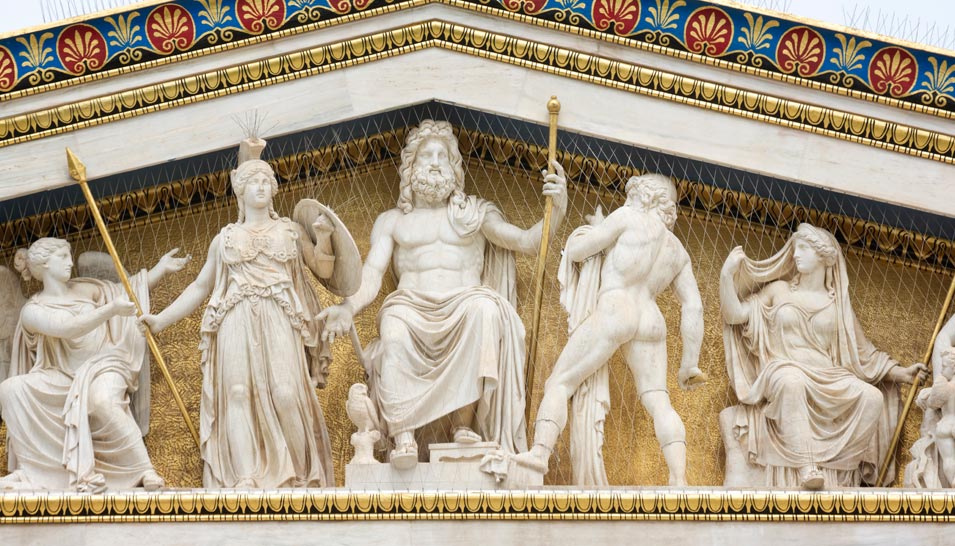 The recently-concluded Winter Olympic Games in Pyeongchang, South Korea continued a tradition with roots dating back to the eighth century BCE and perhaps two or three centuries further back than that, depending on whose historical arguments you choose to believe. By general-but-not-unanimous consensus, the first games were held in Greece in 776 BCE as part of a religious festival honoring Zeus, father of the Greek gods and goddesses. The location chosen, Olympia, was located on Mount Olympos, the highest mountain in mainland Greece and believed to be the home to Zeus, his wife Hera, and a host of their progeny made up of gods and goddesses of lesser rank.
The athletes gathered together on that long-ago day were all male and are commonly thought to have competed naked—not necessarily a proven fact. A cook named Koroibos won the stadion race, a 600-feet-long foot race that was the only competition in the first twelve quadrennial games, thus becoming the first known Olympic champion. The ancient games later expanded to include a variety of other competitions and continued to be held in Olympia every four years until proscribed as pagan rites by decree of Roman Emperor Theodosius I in 393 CE.
A tradition often associated in myth with the ancient Greek Olympics holds that a truce was declared every four years for the duration of the games. In fact, the Greek city-states never stopped fighting with one another, not even during the so-called "Olympic Peace." Athletes, however, were granted safe passage through warring lands because they were thought to be under the direct protection of Zeus.
Nonetheless, the Olympic Games were so important to the ancient Greeks that, when the Persian hordes of Xerxes I invaded Greece in the summer of 480 BCE, the Greeks had a difficult time forming an army to ward off the invaders until after the games had been completed. Once they did manage to assemble their forces, they suffered arguably the most famous defeat in all of military history when the legendary 300 Spartans of King Leonidas fell at Thermopylae, fighting valiantly to the last man in defense of the road to Athens.
Thankfully, no athletes to our knowledge competed "bare beamed and buck naked" in Pyeongchang, although there was a minor "wardrobe malfunction" suffered by French ice skater Gabriella Papadakis. In a modern-day iteration of the ancient Olympic Peace ideal, teams from North and South Korea competed as one in a remarkable display of fellowship that may very well soon evaporate after two weeks of fleeting harmony. Yet, a glimmer of hope shone through their temporary union, however briefly, encouraging some to dream of a peaceful tomorrow free of war.
For those obsessed with medal counts, the tiny country of Norway played the role of giant-killer, taking home thirty-nine medals, including 14 golds, and finishing well ahead of behemoths such as the United States, Russia, and China.
This year's Winter Games gave fans of winter sports a wealth of precious memories to treasure. Nobody save themselves expected the U.S. women's hockey team to come away with a gold medal in one of the most exciting hockey games ever played. Even less expected was the victory of the U.S. men's curling team. Canadians, meanwhile, had much to cheer about when Tessa Virtue and Scott Moir earned gold in the pairs ice dance event to go with their gold medal from the 2010 Winter Olympics and their silver medal from the 2014 Games. Verging on the unbelievable, pairs of sledders from Germany and Canada tied for the gold medal in their event with identical times—down to the hundredth of a second. In terms of drama and grace and beauty, the Pyeongchang Winter Games offered something for everyone.
The 2018 Games came to an end in spectacular fashion on Sunday morning with closing ceremonies for what South Korea had fittingly dubbed the "Peace Games." The ceremonies were packed with elements drawn from Korean culture, including large doses of the Korean musical phenomenon known as K-pop. Then there were Pyeongchang's roller-skating panda bears showing their graceful moves, along with a flock of drones forming images of Soohorang, the official mascot of the 2018 Winter Olympics, and the iconic Olympic rings.
The next Olympic Summer Games are scheduled for Tokyo in 2020, while the next Olympic Winter Games are scheduled for Beijing in 2022.