by Michael Ives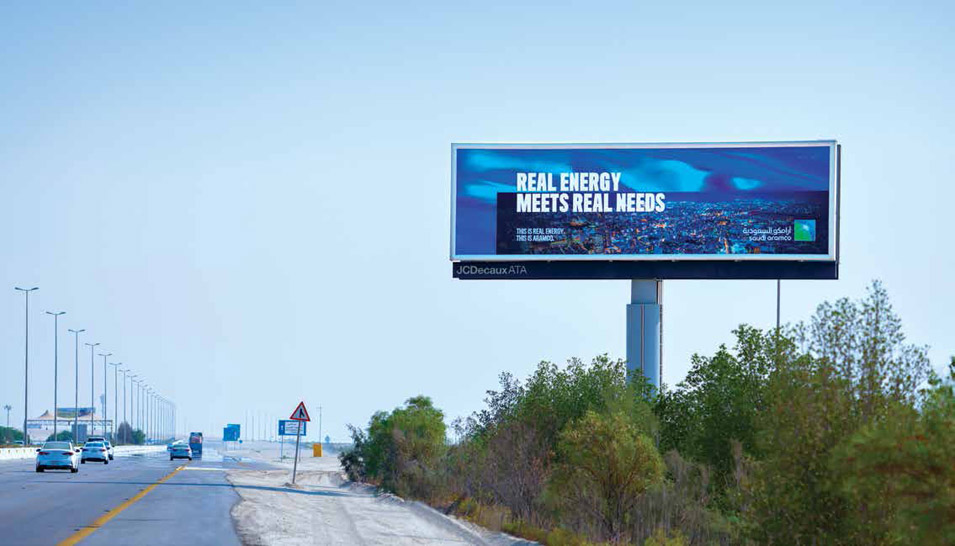 Dhahran — Towering across freeways, greeting you at arrival and departure halls of airports, throughout the Kingdom's newspapers and across multiple digital channels, as befits one of the world's most prominent companies, Aramco's first ever brand awareness campaign is being delivered at scale.
The campaigns overarching message — "This is Real Energy. This is Aramco."
"We took multiple campaign concepts into testing among energy and financial influencers in key global markets," says Nabeel A. Al-Jama', vice president of Corporate Affairs. "The respondents identified the "Real Energy" theme as the voice of a true industry leader. We believe it substantially differentiates us from other international oil companies. It reflects the reality that Aramco exists in a category all its own — a category of one. Using a combination of pragmatic and inspirational language, the message is that we are delivering real energy solutions today, and will continue to do so in the future."
Real Energy, Real Innovation, Real Sustainability, Real Progress
Surrounded by campaign imagery in his North Admin office in Saudi Aramco's Dhahran headquarters, Kirk Collingwood, acting administrator of Marketing Communications, says: "We want our audience to know about Saudi Aramco and our culture of reliable, practical, technology focused operations that deliver energy solutions at scale, to meet the world's growing demand. We are confidently introducing ourselves first here in the Kingdom, and next year in key markets around the world — as a market leader; we are proud of who we are. This includes core messages such as "Real Energy comes from Real Scale" and "Real Energy Fuels Real Innovation." The campaign will feature the breadth of our business from how we deliver "Real Sustainability" through zero flaring and full contact drilling, to "Real Progress," highlighting our commitment to diversity."
Marketing Communications worked with global advertising company McCann Worldgroup to create a fresh, contemporary feel to the campaign to position Aramco as a modern leader. Using a combination of an abstract background, which implies possibilities, with a photographic "window" that clearly shows Aramco's positive activities and impacts in the real world, the implied message is that our company creates real solutions from many possibilities.
First the Kingdom, Then the World
Launched in October in Saudi Arabia, the plan is to officially launch the global campaign in 2020. Then, energy influencers traveling through major global airports, such as those in London and Beijing, will be greeted by the Real Energy campaign, tailored to its location to ensure local relevance.
In addition, brand awareness campaigns will be launched across multiple thought leader publications along with carefully targeted digital campaigns — from homepage takeovers to mastheads and moving picture units, the campaign will use the widest possible range of digital advertising techniques.
The campaign is seeking to significantly raise awareness of our business, among a target audience, to industry levels within three years. In the Kingdom, to achieve this goal, the advertising placement statistics are impressive — more than 4,000 out of home placements (e.g., roadside and airport billboards); 100 newspaper advertisements; and across 10 digital media networks. Globally, the campaign will take us into central business districts, travel hubs, and onto the computer screens of more than 12 million readers.
— The Arabian Sun: October 30, 2019 | Vol. LXXIV, No. 42