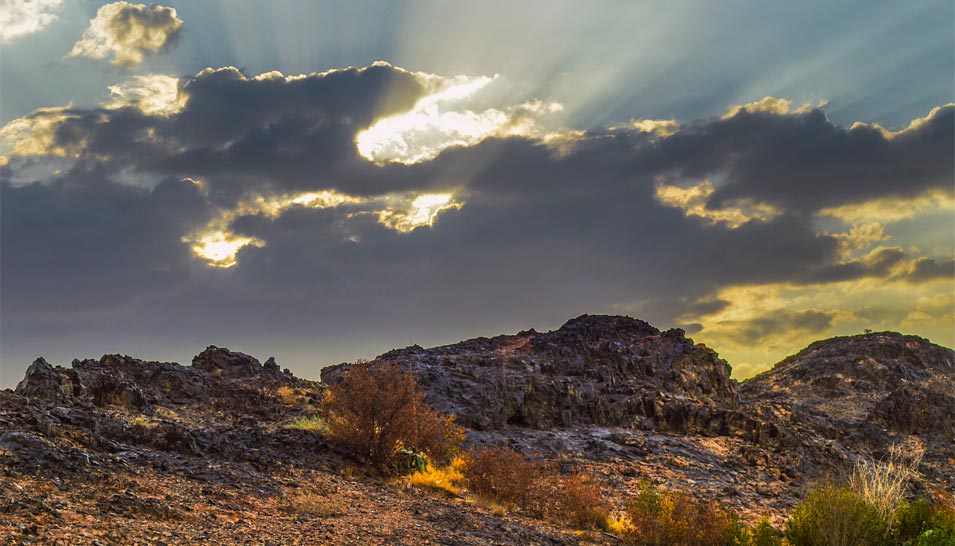 © The copyright of these poems remains with the author, Mrs. Elise Kellett, and can only be reproduced in part or in full with her full permission.
The following are excerpts from the book titled Poems of Arabia by Elise Kellett which was published in 1989. The foreword reads:
This small collection of verses was written as a poetic diary of my thoughts and impressions, influenced by my life and travel within Saudi Arabia during the past eight years (circa 1980s), intending, hopefully, for them to be handed on to my three granddaughters - Emma Louise, Sarah Jane and Lisa Maria - in the fullness of time.
Patty Squires, my friend, read them and suggested they be published for the benefit of the many other people who have lived and worked in Saudi Arabia, to whom perhaps the poems in some future years will bring to mind a treasured memory of pleasant thoughts and recollections of their days spent in the Middle East.
I am deeply grateful to Patty for the idea and for her enormous energy and skills in preparing the draft suitable for publishing from my scribbled notes; and for my husband, Cliff, and Patty's husband, Mark, whose words were always of encouragement and who have always been in full support of our efforts.
I dedicate the poems to my two sons and their wives - Mike and Lynette, Paul and Maria - in order they may be handed on to our granddaughters to remind them in the future of their grandparent's fond memories of Saudi Arabia.
~Elise Kellett
Calling
The wind is rising in the west,
Riding a mounting sea.
Whining and moaning its ghostly voice,
It's calling, calling to me.
Remember the ships we sailed in Rangoon?
The junks in the South China Sea?
Sampans a-slapping the bay in Kowloon?
Calling, calling to me.
Clipper ships riding the wave at Cape Horn,
Arab dhows, nearing Bahrain.
All grist to the mill, when there's years
left to kill,
And you hear the sea calling your name.
***
Dance of the Desert Morning
Silver moonlight ends her dance of darkness
Rippling the palms in pools of light,
Dipping her graceful curtsey to the morning,
Bowing her silvery head, she flees the night.
Desert morning heralds in the dawning,
Spreads her dappled cloak before the dunes.
Golden satin spreading out before her
Where earlier the voice of the moonlight crooned.
Sparkling ripples play across the water,
Yellow diamonds crown the silvery sea.
The cormorant dives, salutes the golden morning
And leaves the world to nature and to me.
The palm trees bend their fronds in exultation,
As nature's dance of hours is almost done.
The orange sun bows low in salutation
The desert mornings dance has now begun.
The pas de deux of night and day together,
Would dance a ballet perfect to behold,
So sad these artists cannot dance together
And name the dance of silver and gold.
***
Dance of the Palms
I sat in my Saudi garden
Gazing up through a beautiful palm.
The leaves like a pleated mantle
Fanned out from a central arm.
Then in one exquisite moment
A vision came into my mind
Of a lovely Arabian lady
Dressed in robes of voluminous kind.
I pleated the leaves back slowly,
Showing without a doubt
That this was the lesson the tree gave,
To the ladies of the court.
They pleated their dresses, as palm fronds
To enhance their famed beauty and charms,
Their dark eyes flashed as they gently swayed,
To the beautiful dance of the palms.
***
Desert Mouse
A tiny mouse lives
In my house,
With long back feet
And toes so neat.
My guests, he scares
As oft he dares,
Licks his paws
And sleeps in drawers.
Begone wee beastie!
You desert mouse.
Please don't stay
Within my house.
***
Desert Rose
Roses, desert roses, all beautifully formed,
Not by man or woman who diligently toil.
These are made by Allah, created from the sand,
To please the traveling man.
The Bedouin sees no flowers
In the burning desert sand.
No roses lie within his walls
To brighten up the land.
So Allah made these flowers
To show the desert tribes,
That gifts may come from heaven,
In any a different guise.
Please do not take these treasures
To grace your window sill,
Or place them in your garden,
An empty place to fill.
Leave them in the desert,
A tribute to His law,
And let the traveling Nomad
Pluck his roses evermore.
***
About the Author: My husband Cliff and I worked in Dhahran from 1979 to 1989. I was employed in media productions. During those years, we lived in Maple Circle. Both of us had a wonderful life and met people from all over the world who joined us so many times for parties and family gatherings,
Most of my friends are American, and really made me feel at home, as we all did, being away from friends and family. It was a really magical era which gave me the idea of writing exactly how I felt about this mysterious land, hence the poems.
If anyone remembers me please contact me at elisekellett@yahoo.com, I would be so pleased to hear from you. I do hear from two people regularly, but as we are all in our dotage now things are getting very thin regarding emails, etc.
The photograph was taken at my huge 90th birthday party in Hightown which is a small village near Southport, U.K. My two sons gave me a celebrity party which was enjoyed by everyone.