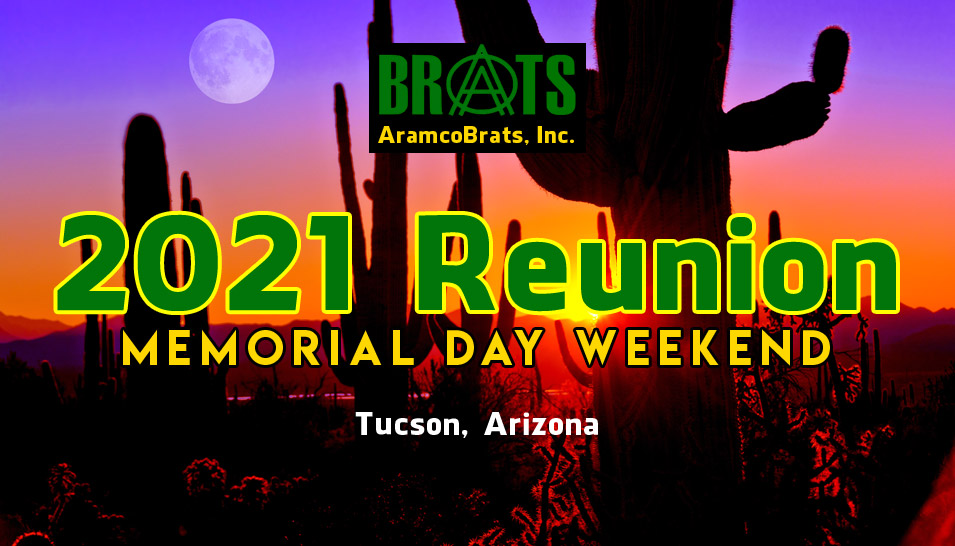 The brAts spoke and ABI listened. Based on our survey results, brAts want their next reunion to be: "in a place that is hot and sunny"; "the resort needs a central gathering place with bars"; "we need one pool or pools close together"; "we want a resort that is not so spread out". BrAts you got it!
On Memorial Day weekend, 2021 ABI welcomes all Aramco Brats to Tucson, Arizona!
Tim "Tavy" Sandin and Jeff Civale are co-chairing the reunion committee supported by Bridget Halpin, Liz Germani, Marie Dunn, Caroline Masters, and Sandra Louchard. Both Tavy and Jeff are local to Tucson. Let's make reunion 2021 a great time to reconnect with our brAt family!
Tim "Tavy" Sandin (DH 61)
Tavy arrived in Dhahran at the age of 3 in 1949. As part of the class of DH 61, Tavy's class was the first class to complete K-9th in Dhahran. Tavy proudly played on the Arabian champion little league Steelers in 1955 and 1957. After graduating from New Mexico Military Institute in 1964, Tavy attended the University of Arizona. Besides being a brAt, Tavy worked for Aramco from 1976-1996 in 4 different communities, including Yanbu. Both of Tavy's kids, Marc and Courtney, were born at the Dhahran hospital. Tavy has 3 grandchildren from Marc. Courtney passed away in 2011 at age 23. Tavy has worked on two other Tucson reunion committees: 2001 and 2003. As a long time resident of Arizona, Tavy has lived in the Tucson and Green Valley area off and on for 45 years. Tavy has been married to his wife, Dee, for 17 years. He enjoys golfing and his gym time.
Jeff Civale (RT 85)
Jeff Civale (RT 85) has lived in Tucson, AZ all his life minus the 10 years he spent with his family in Saudi Arabia (1978-1988). After graduating from RT in 1985, Jeff attended The Orme School in Arizona. As an enthusiastic participant in many reunions, Jeff is excited to be part of the committee for Reunion 2021. Besides being a longtime Costco employee, Jeff loves traveling (especially to visit other brAts), cooking (his salsa verde is a must at every reunion), outdoor walking, entertaining and photographing life's great moments! Jeff works hard to stay in touch and connect with many brAts. As a long resident of Tucson, Jeff knows all the great spots of Tucson!
Keep an eye on Facebook, Instagram and Twitter​.
ABI will announce the hotel in early June 2020!
Inshallah brAts!