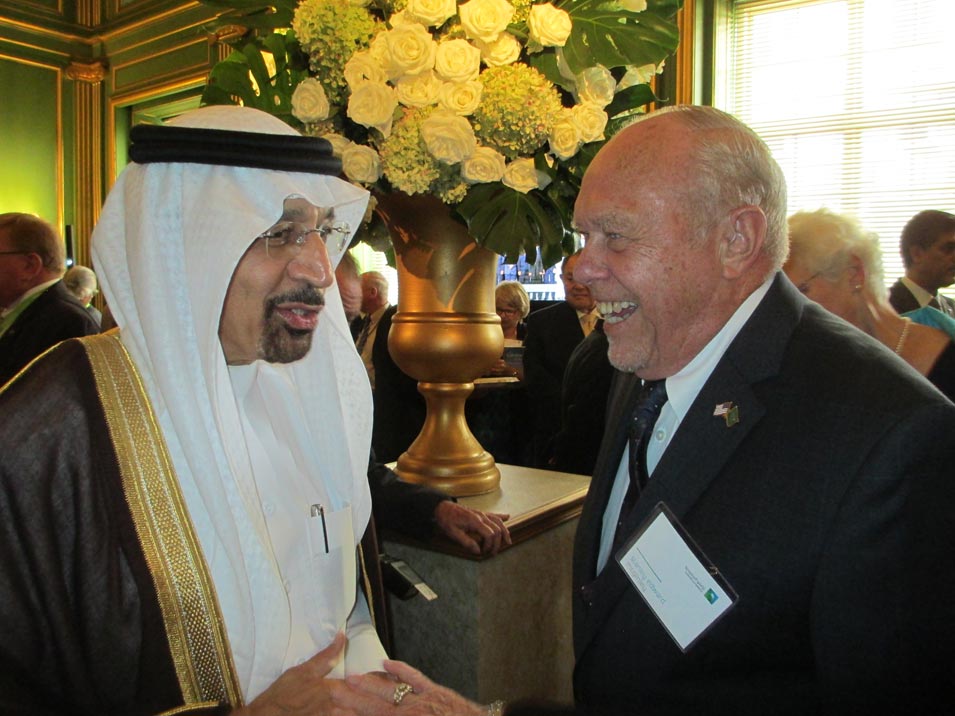 H.E. Khalid A. Al-Falih & Stan McGinnley
Photograph by Vicci Turner, Aramco ExPats
In a major move reflective of the wide-ranging Vision 2030 plan announced last month, on Saturday the Custodian of the Two Holy Mosques, King Salman bin Abdulaziz named Saudi Aramco Chairman Khalid Al-Falih as Minister of Energy, Industry and Mineral Resources. In his new role, Al-Falih will relinquish his post as Minister of Health, taking over the leadership of what was previously known as the Ministry of Petroleum from long-time, now former minister Ali Al-Naimi. Al-Naimi becomes an adviser to the royal court.
"Saudi Arabia will maintain its stable petroleum policies," Al-Falih said in a statement. "We remain committed to maintaining our role in international energy markets and strengthening our position as the world's most reliable supplier of energy."
Al-Falih pledged "transparency and accountability" in a new approach designed to "help the kingdom to better meet domestic and international energy demand."
Suanne & Sam Keeley and Fred & Martha Goff
Al-Falih's appointment, and the restructuring of the former petroleum ministry, are part of a plan to reduce the Kingdom's dependence on oil with the goal of diversifying the Saudi economy and improving the quality of life of its people. Observers consider his appointment a sign of continuity. Al-Falih built his reputation as an immensely experienced and knowledgeable leader through long years spent rising through the ranks of Saudi Aramco.
Born in Dammam, Al-Falih graduated from Texas A&M University and joined Saudi Aramco over thirty years ago. He was appointed president and chief executive officer in January 2009. After King Salman ascended to the Saudi throne last year, he became health minister. He reportedly will continue to lead the company for now.
Ali Al-Baluchi, Vicci Turner and Mohammed Ali Al Khalfan
Last September, during King Salman's visit to Washington, DC, we had a chance to speak with Al-Falih during a reception at the Andrew M. Mellon Auditorium. I congratulated him on his recent appointment as Health Minister, while he expressed his appreciation for the efforts of AramcoExPats.com to promote a positive message of the company, the Kingdom and the Saudi people. Later, he appeared on a panel with HE Adel Al-Jubeir, Minister of Foreign Affairs, discussing the future of Saudi-U.S. cooperation.
We congratulate Minister Al-Falih on his new appointment. We wish him great success and encourage our readers—and especially those of you who count him as a personal friend--to support his efforts.