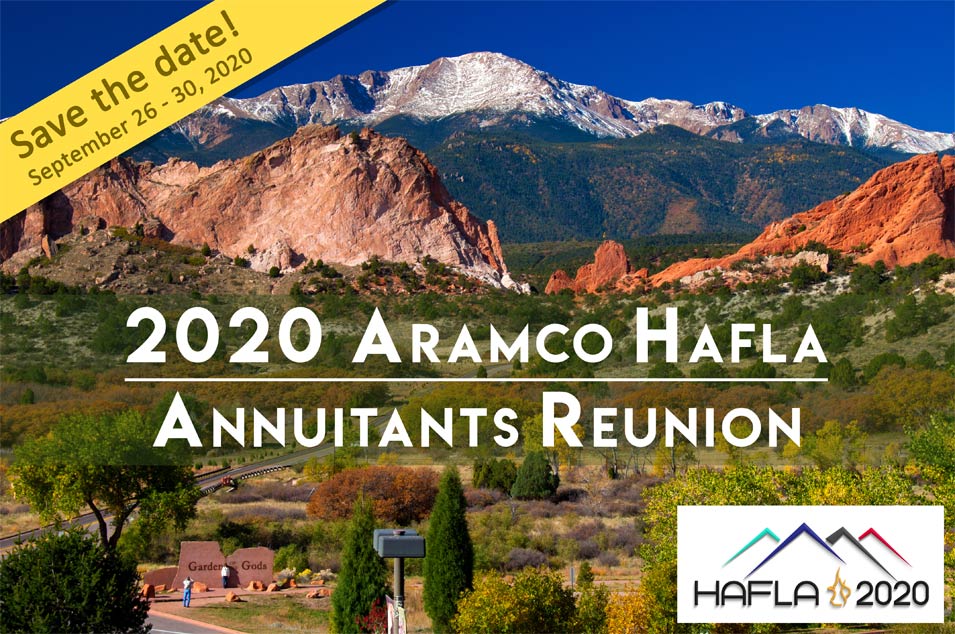 32nd Biannual Aramco Hafla Annuitants Reunion
September 26 - 30, 2020
Cheyenne Mountain Resort
3225 Broadmoor Valley Road, Colorado Springs, CO 80906
The 2020 Hafla Reunion organizing team are happy to announce that the 2020 annuitants reunion will be held September 26-30, 2020, at the Cheyenne Mountain Resort in Colorado Springs, Colorado. We are excited that your reunion will occur close to the peak of the beautiful aspen color season in one of the best tourism cities in the US.
The Cheyenne Mountain Resort is a four-star hotel in the foothills below Pikes Peak, one of the 52 mountains over 14,000 feet high in Colorado. Operated by Dolce Resorts, Wyndham's premium brand, it has a Pete Dye-designed golf course, a 35-acre lake for boating and paddle boarding, a full-service spa, 17 tennis courts, pickle-ball courts, indoor and outdoor swimming, and a four-star restaurant. The reunion committee is planning golf and tennis tournaments, and possibly a pickle-ball competition.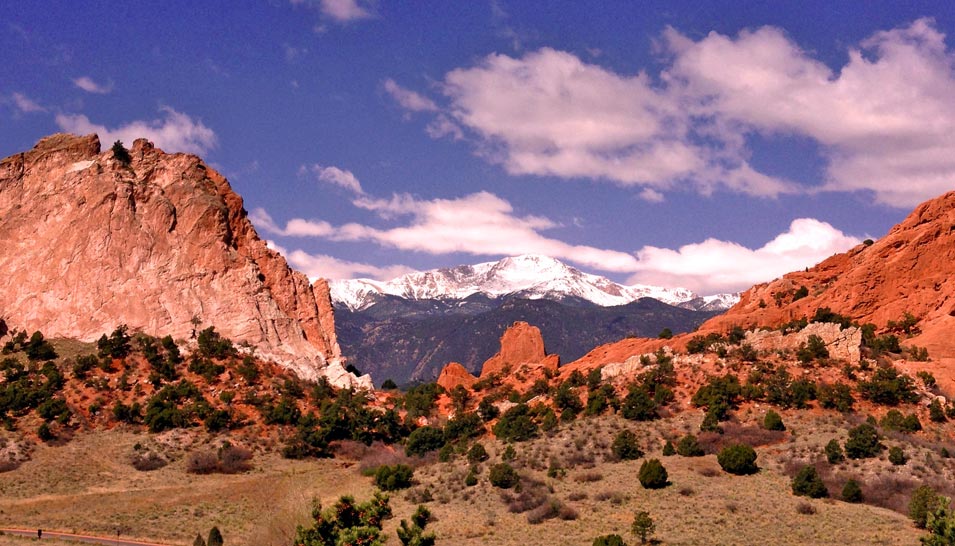 Garden of the Gods with Pikes Peak
The Colorado Springs area also offers an array of exciting tourist activities, including Pikes Peak, Garden of the Gods, the Air Force Academy, the Royal Gorge (the highest bridge in North America) and an "Old West" town of Cripple Creek (with gambling). Other attractions include the Cheyenne Mountain Zoo, Manitou Springs, Cave of the Winds and Manitou Cliff Dwellings. Within an easy day trip, you will also find some of the most breath-taking fall color views in the country. The organizing committee will select several group tours that you can choose from.
You will want to come early and stay late to get the best of the reunion and the tourist activities of the area.
The only challenge for 2020 reunion attendees will be choosing which ways to enjoy their time with old friends. Space will be limited to about 300 participants, so keep your eye out for the registration announcements on AramcoExPats.com. The hotel is already taking reservations for the reunion, and the reunion registration (required for attendance) will be opened in October 2019.
The Cheyenne Mountain Resort can be booked now (refundable until August 2020).
Click Here for Hotel Reservation
The organizers are John Palmer & Doreen Cumberford, and Doug & Elizabeth Cook. More details about the reunion will be posted on AramcoExPats.com. In the meantime, anyone with questions about the reunion, or an interest in volunteering, may contact the hosts at haflah2020@gmail.com.