by Ching Yeh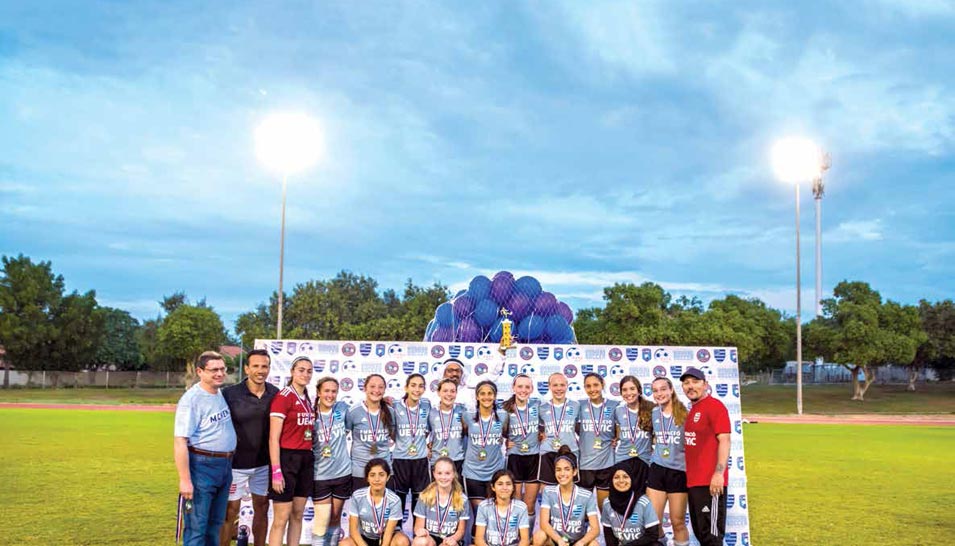 Saudi Aramco's top girls soccer team earned a hard-fought championship at the annual Eastern Province Women's Soccer Invitational Nov. 9 and 10, paving the way for the next tournament in Europe.
Braving heat and rain, Excel Red defeated Al Yamamah from Riyadh 5-4 in an extended time final match at the Dhahran Hills soccer field. The winning goal was scored by Ariana Lacruz.
After losing its first match to Al Yamamah in a rematch of an existing competitive rivalry from last year's tournament, Excel Red was moved to the losers bracket. Excel Red managed to win all of its games in the bracket to earn the opportunity to square off with Al Yamamah for the tournament championship. Last year, Excel Red lost to Al Yamamah 2-1 in a very competitive final.
'Dug Deep'
"We are so proud of these young ladies. They put in work this weekend and beat the best women's team in the Kingdom," said Excel Red coach J. Augustin Ruiz, one of the two coaches for the team along with coach Carlos Bernal.
"We love playing Al Yamamah; it's always a clean fight to the end," said Ruiz, who has been coaching Excel Red for three years. "Much respect to Al Yamamah, as they fought hard but our young ladies fought harder and dug deep to win."
Organized by the Saudi Aramco Soccer Association (SASA) and Saudi Aramco Youth Soccer Organization (SAYSO), six teams participated in the two-day tournament, including the Eastern Flames from SASA, the Dhahran High School varsity team, the United Eagles from al-Khobar, Excel Grey from SAYSO, Excel Red from SAYSO, and Al Yamamah from Riyadh.
The Eastern Flames took third-place honors.
"With hard work, everything pays off. We are very happy. I am very proud of my teammates," said 15-year-old Carlota Loza, a left center midfielder for Excel Red.
Taylor Flynn of the Excel Red squad takes it to the goal during action at the recent Eastern
Province Women's Soccer Invitational Tournament on Nov. 9 and 10 in Dhahran. The team
(pictured at the bottom of the page) plans to travel to Europe to play in the Holland Cup next April.
A Call to Female Athletes
Ruiz encourages all girls to play soccer and try out for one of the Excel teams, of which there are two U-15 and one U-13 Select in SAYSO.
"I strongly believe that if the girls have the heart and put in the extra effort, we can help them develop mentally and technically," he said.
"Team Excel has taught the girls more about life than just playing soccer," said Steve Flynn, whose daughter Taylor plays right center midfield for Excel Red. The team practices 10 to 12 hours during the week and additional hours sometimes on the weekends.
"They are the best team here (in the Eastern Province). Some of the girls are even better than the boys," said 17-yea-rold Mohammed Saadeh, who came to cheer for Excel Red.
"You can't teach heart, you either have it or you don't. These young ladies (both Red and Grey) definitely have it," said Ruiz.
Next Up — Europe
Ruiz and the Excel team of coaches (Bernal, Todd Green, Alfredo Loza, Joelle Persram, Jose Salazar, Duston Knutson, Ivan Cetkovic, and Kris Koziol) are scheduled to lead two U-15 teams (Excel Red and Excel Grey) and one U-13 team to Europe for the Holland Cup in April 2019. A total of 288 teams from different age groups from around the world come to compete.
"Our goal is to win the tournament in Europe," said Ruiz.
The three teams will begin intensive fitness training, soccer practice, and motivational coaching in January to prepare them for their trip to Europe.
Karina G. Chapa, manager of the Eastern Flames and one of the organizers of the tournament, said the purpose of the tournament is to promote women's participation in the sport and to let the world know that soccer is encouraged here in the Kingdom of Saudi Arabia.
Her team's assistant coach, Maram Butairi, is expected to become the Kingdom's third female licensed coach in December to teach U-12 players.
Yara Abussaud, one of two Saudi girls on Excel Red, is ambitious about her dream in soccer.
"I want to be among the top soccer players in the world, though it's going to take time and effort," said Abussaud. "I try hard to improve every year."