by Jessica Weirmier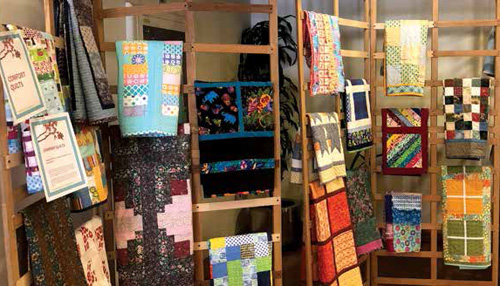 It's a good time to be crafty because the Dhahran Oasis Quilt Guild (DOQG) is experiencing a resurgence in popularity, and that is translating to more quilting classes and a growing quilting community.
And more beginner classes mean that novice quilters were well represented during the guild's annual quilt show. "Our beginner classes have just exploded," says Cate Aznoe, president of the DOQG during opening day of the guild's show — Desert Diamonds. "It feels like we're more multicultural, and we're seeing different styles, perspectives, and looks."
Aznoe adds in recent years the guild has lost a lot of membership to retirements, but 2019 was a growth year, with 47% of its members being first timers. Demand has become so significant that for the first time that Aznoe is aware, two beginner quilting classes per week are now offered.
Pineapple
Let's Picnic
Pretty Pyramids
Zamil Tulips
It's a Date
Navigating the Cosmos
Daisy Doodle
Dhahran Guild Birds
A Sea of Quilts at The 2020 Show
This year's show featured 103 quilts submitted by 26 guild members, with one nonmember guest entry. Styles ranged from small table runners to fullsized bed covers, and from handbags to baby quilts for donation to John Hopkins Aramco Healthcare's Neonatal Intensive Care Unit.
The genesis of many of the quilts on display was weekly meetings held in the quilting house. At these meetings, members give Block of the Month presentations, share in a quilt-along (in which members work on the same pattern), and create baby-sized quilts to give to the local hospital.
Of the 27 quilt show entrants, 14 are novice quilters. A novice quilter has less than one year of quilting experience. Aznoe herself started out as a novice a few years ago and has witnessed firsthand the guild's exponential growth.
"I think quilting has made a resurgence," says Aznoe. "Quilts are becoming more popular in homes, and this show is highlighting the excitement of our new members."
To find out more about the Dhahran Oasis Quilt Guild, email: [email protected] gmail.com.
Rainbow Weave
Crossing Paths
Tracy's Girls
Blue Brick Road
One Block Wonder
Whimsical Sunshine
Hey Pop
Arcadia Quilt
and the winners are …
Member's Choice: Daniela Turcan, "Spring Blossom"
Viewer's Choice: Maura Reierson, "Pretty Pyramids"
Challenge Quilt: 1. Gail Desjarlais; 2. Sandy Descheneaux; 3. Cyndy Bresden
Appliqué: 1. Dee Suwarsono, "Pineapple"; 2. Gail Desjarlais, "It's a Date"; 3. Merlaine Cook, "Elephants."
Contemporary: 1. Wendy Randall, "Daisy Doodle"; 2. Ronél Debruyn, "Rainbow Weave"; 3. Sandy Descheneaux, "Tracy's Girls."
DOQG Project: 1. Ronél Debruyn, "DOQG Adventure Quilt"; 2. Sandy Descheneaux, "Sandy's Neighborhood"; 3. Maura Reierson, "One Block Wonder."
Holiday: 1. Cyndy Bresden, "Tree Farm"; 2. Brynli Randall, "Freedom Greens"; 3. Kim Dibb, "Patriotic Pineapple Quilt."
Novice: 1. Cyndy Bresden, "Hey Pop!"; 2. Brynli Randall, "Whimsical Sunshine"; 3. Mei Dibb, "Unicorn Quilt."
Soft Furnishings: 1. Ronél Debruyn, "Quilted Handbag" (DOQG project); 2. Ronél Debruyn, "Seasonal Table Runner"; 3. Ronél Debruyn, "Tiny Triangles Miniature."
Special Techniques: 1. Shannon Penner, "Arcadia Quilt"; 2. Maura Reierson, "Pretty Pyramids"; 3. Sandy Descheneaux, "Ma'asalama Dear Friend."
Traditional: 1. Daniela Turcan, "Spring Blossom"; 2. Ronél Debruyn, "Japanese Inspired Quilt"; 3. Wendy Randall, "Pineapple Sunset."