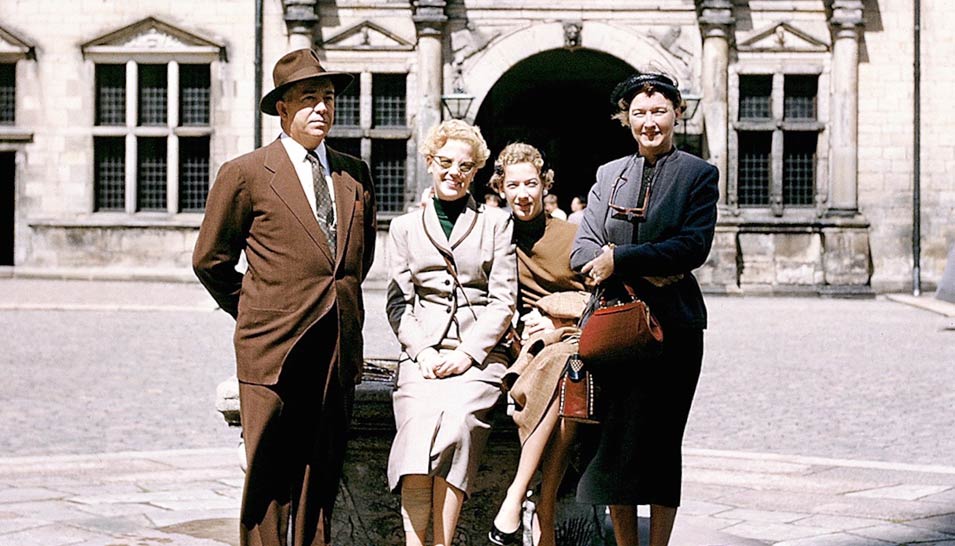 The Webster family in Copenhagen in the summer of 1955 when they were on "long leave" in Europe and the United States.
From left: Ken Webster, daughters Judy and Susan, and wife Mildred.
(Photo from Mildred Webster's Kodachrome slide collection.)
As Ken and Mildred Webster wrap up their long leave over the summer of 1955 – having completed a month-long tour of Scandinavia before returning to Ken's hometown of Greenwich, Connecticut, to visit relatives and friends for the summer – they settle eldest daughter Judy in at Vermont's Middlebury College for her freshman year. And they get younger daughter Susan settled in Switzerland for the fall semester.
Upon their return to Dhahran after long leave in 1955, Ken and Mildred Webster were honored at several dinners hosted by
Ken's Arab employees and friends. (Photos from The Sun & Flare – Ken Slavin's personal collection and online archives.)
They return to Dhahran in late September 1955 and begin a long series of "welcome home" dinners given in their honor by Arab employees and friends.
The remainder of the year sees a lot of interesting Aramco activity, including record-breaking oil production and shipping, lots of charity work for Palestinian refugees, a record number of American births in the camps, interesting trips for Ken Webster in his role as Dhahran district manager, a visit by the King and his royal entourage – and the Websters' first Christmas without Judy, who remains in New England for the Holidays. These letters cover September to December 1955.
Tuesday Night
(undated, but apparently early September 1955)
Greenwich, Connecticut
Ken and Mildred Webster were prolific letter writers.
Luckily, Mildred's stepmother saved every one they mailed from Saudi Arabia throughout the 1940s and '50s.
(Photo by Ken Slavin)
Dear Folks:
I'm sitting out in the kitchen writing, as everyone else is listening to T.V. I've been trying to write for days. . .
We met the Dunbars [at Idlewild] after your plane left and had lunch at the airport. As we came out of the restaurant, we saw the Aramco people were waiting to leave. Saw Mr. Davies and several others. (Editor's note: That was Fred Davies, who at the time was CEO and chairman of the board of Aramco.)
Followed Dunbars to their house and stayed about an hour. They are a fine young couple – and raising three lovely youngsters.
I've still been shopping every day. We really concentrated on it today – Judy and I had lunch Friday with her new roommate and mother. They are just grand and Jane and Judy "clicked" like everything. We bought spreads, pillows, lamps, rugs and material for draperies – very attractive and Mrs. Adwin will make them. . .
We are going to stay over another week and take Judy up [to Middlebury to start the semester].
Bye now.
Love to all,
Mimi
Middlebury Inn
Middlebury, Vermont
September 16, 1955
(letter to Pop and Nana Nelson, Mildred's father and stepmother)
A view of the Chateau at Middlebury College. This is where Judy Webster lived on campus.
Judy Webster in front of the Chateau dormitory in 1955. This is where she lived during her freshman year at Middlebury College. (Photo courtesy Judy Webster Bauer.)
Judy Webster in her dorm room at Middlebury College., 1955.
(Photo courtesy Judy Webster Bauer.)
Mildred Webster's letter from Middlebury, Vermont, as she and Ken helped daughter Judy settle into her dorm for her freshman year at Middlebury College.
(Photo by Ken Slavin.)
Judy Webster and her friend Blake went on a date to see "Tea House of the August Moon" at the Martin Beck Theater on Broadway in the fall of 1955.
Dear Folks:
Here we are back in good ol' Middlebury! We changed our reservations [to return to Dhahran] to this Sunday night at 6 – TWA. I just couldn't be satisfied not knowing if Judy was here with all her stuff and that everything was fine.
We came up yesterday and will have to leave tomorrow, Saturday, but the Adwins, her roommates' folks, will pick Judy up tomorrow when they get in and she will spend the night with them and go out to college Sunday morning at 9.
They would have brought her up, but have a Club Coupe and no room for Judy's luggage. We brought the trunk and all and it is already locked up in her room at the Chateau. (Editor's note: This was where Judy Webster's dorm room was located. According to the Middlebury College website, the Chateau was built in 1925, "modeled on the Pavilion Henri IV of the Chateau de Fountainbleu. It is home to the Grand Salon, classrooms, French Department offices, and residential rooms for nearly 50 students. . . the Chateau was one the first and largest continuous "language house" in the country, where students were pledged to the use only of the foreign language of their study." At the time of her enrollment, Judy was planning to study German.)
The Adwins are grand and Jane is a darling. She and Judy hit it off perfectly and I'm sure will be very happy together. She's taller than Judy – dark hair and complexion, with blue eyes. . .
Susan went to the "Get Together" formal at Greenwich Country Club last week with Billy Harriss – the same boy who took her to the other one. She wore Judy's yellow net – looked darling. Billy brought a lovely white and yellow rose corsage. They won first prize as the best dancers there and also a first in the waltz contest. They are both nutty about dancing and have fun together.
It's beautiful here – the trees are beginning to turn and the sun was shining all day. We shopped some and took some more pictures. Judy is delighted with it all and it really is a lovely little college town. Everyone is extremely friendly and nice.
Blake [Judy's boyfriend from Greenwich] plans to come up for Homecoming October 4 – if possible – a long drive for him. He came home Tuesday night to see her and they went into New York for dinner and "The Tea House of the August Moon" on Broadway last weekend for his 19 th birthday. Right now, Judy and Blake are "that way" about each other. The Blakes have been lovely to Judy. (Editor's note: "The Tea House of the August Moon" was a huge Broadway hit at the time, running 1027 performances and winning many awards including the New York Drama Critics Circle Award for Best American Play of the Year, the Pulitzer Prize in Drama and a Tony Award.)
Hope your box arrived and everything was OK. We will call you Saturday night when we get back.
Love to all,
Mimi
Dhahran, Saudi Arabia
September 24, 1955
For her first year and a half of boarding school,
Susan Webster attended Brillantmont in
Lausanne, Switzerland, summer of 1954 through
Christmas 1955. Here she is on a sled outside of
a Swiss hotel.
(Photo from Ken Slavin's personal collection.)
Dear Folks:
Getting in on Thursday as we did, we couldn't cable until today – so just decided to write. Our trip was fine, but we were tired when we arrived. Of course, we always are - mostly because of the rapid change in time. Stopping in Switzerland after the first five-hour change helped a lot. It is another five hours from there to here.
Our plane didn't leave Idlewild until after 8 – instead of 6, as scheduled. We had a light load and because of that, as well as favorable weather, we made a non- stop to Paris – 12 hours, but we were very comfortable. With so few aboard such a large Connie [Convair], we were able to spread out all over the place and had plenty of sleeping room. There was a very nice group aboard and we enjoyed visiting with them. Stayed in Paris an hour and were in Geneva soon after.
They failed to take Susan's footlocker off at Geneva, which caused us some concern, but they contacted the plane right away and caught it at Rome – then flew it back to Zurich the next day and sent it down by train from there [to her boarding school, Brillantmont, in Lausanne] on Wednesday and we hope she received it that night or surely Thursday. All her winter clothes were in it except the suit she traveled in and it was chilly enough for them in Lausanne.
We did her last-minute shopping – took her roommate out to dinner that night, then she stayed in the hotel with us, but the next day she went to the school and was so excited and happy that she didn't want to come back with us for the night.
We took all seven of the Aramco girls for dinner and back to school. All full of pep and happy as could be. We left at noon Wednesday and went to Geneva – shopped a bit and went out to the International School to see Diana Wasson and two other Aramco girls, then off to the plane. Had a good trip, but I caught a bit of a cold and we were really pooped when we arrived. The gang were down to meet us and it was good to see everyone. Unfortunately, Allyn and Lynn [Ken Webster's brother and sister-in-law] left at noon and we arrived at 4 p.m. Sorry to miss them, but they will be back before we know it.
Everything looked fine. Grey Boy [the Websters' Persian cat] was glad to see us, too. The Boys [house boy Louis and cook Francis] were both here and the house was in apple pie order.
It isn't too terribly hot, but have had a heavy humidity each morning. I've stayed pretty closed in, except for dinner both nights. Ken was up early and off to the office this morning – back into harness and seeming pleased about it. I'm sure he is, too.
It will take me a while to get everything out that I put away and settle things back into place, but guess I have plenty of time to do it!
We had a note from Judy last night – written on the Saturday night after we had left her at Middlebury. I am sure she is going to be most happy up there and we feel so much more satisfied having taken her up ourselves and seen her there with all her "gear." Anxious now to hear after school started. She called Sunday noon before we left New York and she and Jane had finished unpacking, had their room in order and were very happy with it all.
We really had a wonderful summer with all of you and thanks to everyone for helping to make it so. Seemed at the last that we had hardly been there and it was two months at that! Time goes by so fast. It goes rapidly here, too, so we will be home again before you know it.
It helped so much getting both girls settled and having them so happy about their schools. I know they will have a good year. It is hard on us to have them gone and especially that we won't see Judy for so long. But that is the way it is and can't be helped. We are thankful we can send them [to good schools] and guess the time has come that they must begin to break away. Seems you have them with you for a precious little bit of time. Susan will be down for Christmas before long and I hope the next summer comes in a hurry.
Everything is going along the same out here. They have had a mild summer and now the humidity is in season, but maybe not for long. I just stay in as much as possible during this period, but "stuff" keeps going on. So I'm off to a start again– Mim and Daisy – Verdel, too, seem to have spent most of the summer doing the same thing I was doing – getting kids ready to go back to school. Daisy and Mim said they sewed all summer.
We found a beautiful school coat for Susan – full length with an attached hood fully lined with alpaca – very snug and warm. Also got her a steam iron – had the record player repaired – and supply of paper – stamps, soap, toothpaste, etc. Fur-lined gloves and wool scarves for skating and skiing. So, she is set up and won't have to use her allowance for all that! Pretty good planning, I'd say!
It is lunchtime, so had better close. A friend is going to the States in the morning and I will ask him to mail these, as our mail still only goes out on Wednesday and Thursday. So long for you not to hear from us!
Many, many thanks again to all for everything and write us soon.
Love,
Ken & Mildred
P.S. [to Pop and Nana, Mildred's father and stepmother]: I am so sorry we failed to call you Sunday before we left, but there was so much confusion at the house and we were all concentrating on Gram [Ken Webster's mother], who was very upset. We left in a rush and it just simply slipped my mind. I felt very bad about it after we were on the plane. I was so weary of packing – traveling and juggling luggage. I was sort of numb. Hope it didn't upset you in any way.
Love,
Mimi
Dhahran, Saudi Arabia
October 4, 1955
Dear Folks:
The days are getting nice, now – I can have the AC off in the mornings and open the doors until 10:30 or so – and that is what I like. Not that I would like to do without the AC, though, when needed! From now on it will be very pretty and get cooler with every day – just my dish.
Our things arrived. That is, the footlocker and the pictures – the copper ones, I mean. Also the coffee pot. I am in the throes of deciding what I want to do in the house in the way of paint and fixing up the bedrooms. I've already moved everything in the living room for a change. Looks fine.
This is a hectic week and so was the one before. So many things going on – some for us and some just in general.
This week the Executive Committee from the four owner companies is here and brings forth something every night. We will be out every night this week and Francis is about to have a tizzy! I never accept things so close together, but this time it couldn't be helped. Of course, without anything to drink, all dinner parties are over much earlier.
I realize very foolishly that I did not get any clothes for this sort of thing. Have some old things, but wish I had done something about it. I may ask Lynn to do something about it for me. [Editor's note: Lynn Webster, married to Ken's brother who also worked for Aramco and who lived in Ras Tanura, was an accomplished seamstress.]
Ken's secretary, Lillian, and Joyce Crow, the other one in the office (the third one is on Local Leave), are coming for lunch today. Joyce is leaving this weekend for her Long Leave. They are all three such nice girls.
The girls are fine and both so happy and interested in their schools, which makes us happy, too. I don't worry about them knowing they are contented. Miss them, of course, and hate to think of Christmas without Judy – the first in their lives we haven't all been together – but guess that is the way it goes. The break has to come sometime.
We have a "jillion" Arabs in our front yard. The grass was on the poor side and had lots of nut grass in with it, so they are digging up the whole thing and replanting. This grass was put in in '46 and the lawn has never been level. Otherwise, the place looks fine. We are cutting back shrubs and trees – our time of the year for doing those things – and things were sort of rank. The hibiscus grows like Jack's beanstalk every year. Also replacing a tree with a lovely big Peepul tree – not a little sliver, I mean.
Must go. Want to write the girls and have some chores done before lunch. Bye now.
Love to all,
Mimi
Dhahran, Saudi Arabia
October 12, 1955
The Websters took great pride in their yard and gardens at 1423 Kings Road in Dhahran.
In the fall of 1955, work crews planted a Banyan tree and a Pipal tree and had the entire lawn replanted.
Dear Folks:
Enjoyed your letter so much this week . . . and thanks for the seeds. I'll plant them a little later.
Right now we have Arabs all over the yard, but they have reached the stage of setting out the grass now, so it won't be long until they are finished. We have two nice tree replacements – a big Banyan and a smaller Peepul – both healthy and strong looking. (Editor's note: both trees grow well in the Saudi Arabian climate. They are both from India, both have religious significance in the Hindu culture, and both are of the fig species.)
Had a long letter from Judy and she surely is very happy up there. [At Middlebury College.] Last weekend was the one Blake was to come and they were to go to the Commodore's Ball on Saturday night. Also, she had hoped Allyn and Lynn would get up there, too. She and Blake are still "that way" about each other – goodness knows if it will survive the long separations but right now everything is going fine. Can't say I blame her. I think he is a very nice fellow and darling, to boot! She has had some dates up there – mostly with a boy from Baghdad whose sister went to ACS in Beirut with Judy. He asked her to the Ball, but she couldn't see that with Blake scheduled to come.
She was elected one of two freshman representatives from the Chateau to the Women's Undergraduate Association (government of women's campus).
I've been busy as usual, but this week is not so hectic. Tonight Ken goes to the District dinner welcoming him back. I have a tea this afternoon and there have been coffees this week. It has turned warm again, but we are hoping not for long.
I have Susan's sweater half done. I still sew every Monday for Arab Relief. Great Books is starting up again, so guess I'll keep busy. (Editor's note: Mildred belonged to a group that studied the "Great Books." I now own the collection she used, the original 1952 edition, published by Encyclopedia Britannica, which features 54 volumes of some of the greatest literature of the Western tradition.)
No particular news and I must go dream up something to wear to the tea – too hot for winter things, but everyone is darker clothes now. I didn't buy half enough stuff. Woe is me.
Did the grass seeds work, Pop?
Bye now. Love to the "kids" and write soon.
Love,
Mimi
Dhahran, Saudi Arabia
October 19, 1955
Dear Folks:
No mail from anyone this past week. We are much concerned about the flood news of the Connecticut area. Hope there was no trouble where you are. Surely is a freakish year, isn't it? Never heard of so many hurricanes and floods – general upsets all over. Even out there, the weather seems to be changing from year to year – more rain, etc. [Editor's note: According to Wikipedia, "The Flood of 1955 in Connecticut was one of the worst floods in Connecticut's history. Two back-to-back hurricanes saturated the land and several river valleys in the state, causing severe flooding in August 1955. Almost 90 people died during the flooding, and property damage across the state was estimated at more than $200 million, in 1955 figures. The floods prompted changes in safety measures, river monitoring and zoning laws."]
I have been trying to catch up on my letter writing. I am so far behind, but seems when I do the family correspondence, including the girls each twice a week, I'm about 'rit' out! I have stuff all stacked up by me here and I do hope to plow through some of it today.
Ken left this morning early and flew up the line on an inspection tour, but will be back soon after lunch, he hopes. He certainly has been busy as can be since he returned. All his Arab friends have been by and we have been to several dinners for us among the Arabs. Have another one this next Friday week. They are really such nice fellows and so sincere when given half a chance of friendship. We have been very touched by all this great social whirl with the Arab boys in the various shops and departments under Ken.
In fact, we have done nothing much but go – just happened to hit a time when there has been a steady stream of visitors coming and going. Poor Francis is very upset. Not enough for him to do in the kitchen. I had a long talk with him this morning and we think it is best that we find him another place. He is such a good cook and we are very fond of him, but he should be kept busy. Besides, with neither of the girls here, it is silly to spend the money. In a pinch, if I need extra help for a big party, I can get a Company boy from one of the guesthouses. With two girls in school, the money will be used to a better advantage.
News for Allyn and Lynn: Phyllis Reese had to go back home for another lung operation – Miriam and Les have gone to New York where she is to have a malignant breast operation. She will be in Memorial Hospital in the City. Read a letter from Pauline last night at Reese's and she is much better. You have a formal thank-you letter from Bob thanking you for your participation in the gift for them.
Had a very welcome letter from Dick [Ken's nephew, Dick Jenner] which we enjoyed very much. Will someone please send me Dawn's address?
Last letters, both girls were fine and happy. Must be beautiful up there, now, in Vermont. Switzerland is always beautiful. Now Susan writes she thinks she wants to go back to Brillantmont another year. She has heard from Billy Harriss.
Must go now. Hope all is well with everyone.
Love to all,
Mimi
Dhahran, Saudi Arabia
October 26, 1955
Hi, Everybody:
Enjoyed news of all of you at home. Glad the storms in the East did not do too much damage to you – even though from the news and pictures, things must have been pretty rough in spots. Makes one wonder what has happened to cause all this turmoil in one year – and no let up! We were worked about everyone.
I have just fallen heir to about 40 albums of 12-inch records – all 78 RPM – but in good condition and as our machine plays all three speeds, makes no difference. I have been having a field day in the afternoons when I am alone in the house and I can play what I want without concern for anyone else. The Company has replaced all their records they play over the loudspeaker with LP type and these were asked to be cleared out to make room. So, I have added to my classical collection all the ones I didn't have and wanted.
We are still on a merry-go-round – and surely hope it lets up soon. A little bit is fun, but then it gets to be a chore. As the weather gets nicer, we begin to get Company visitors. Some have been very interesting. I get in on all the teas and coffees for the wives, but since I have quit playing bridge, I miss those parties. I quit because it seems impossible to not get so involved that you never have a minute to yourself and I am not constituted to enjoy that.
Both girls seem to be very happy, busy and content. Susan has written to have a friend come home with her for the Christmas vacation period – about three weeks. She is from Los Angeles. I've sent an invitation to her parents, but do not know if they will let her. It is about $400 odd, all told, but guess if they can afford to send her from the States, they wouldn't balk at that. Susan's best friend from Abqaiq is asking to bring the other member of the foursome.
Mim and Sam [Schultz] are leaving the 4th of December – going Pacific and will be home to spend Christmas with the girls and grandchildren. I sure will miss them. They are our closest friends and she is the only one I really talk with. We can let down our hair without fear of repercussions – and it helps once in a while.
We have been making up our Thanksgiving guest list. Will have single employees, as usual. I am trying to find a good place to put Francis. Won't let him go unless I know he will be happy with the people. We have had him so long that he is part of the family. We don't really need him with both girls gone – and besides, it isn't as cheap as it used to be and that amount each year would go towards the girls' education. Several have asked for him, but I know the Memsahibs too well! Some are quite nasty to their help!
I am back sewing for APAR every Monday and have just been elected treasurer of the organization. At least we do very worthwhile work – Aid to Palestinian Arab Refugees – of which there are thousands and thousands. The ones who were pushed out of Israel.
Bye now. Love to all of you,
Mimi
Dhahran, Saudi Arabia
October 28, 1955
Ken and Mildred Webster at one of several Arab dinners honoring their return from long leave in 1955.
In October 1955, Dhahran District Manager Ken Webster embarked on a 485-mile air tour of Aramco operations north of Dhahran via a five-passenger Beechcraft airplane, similar to the one pictured.
Dear Folks:
Today is the Prophet Mohammed's birthday, which is not the reason Mildred and I are going to an Arab dinner up on the hill in the nearby Saudi camp. We are going because members of the Abu Dai family of certain employees invited us to what is now the fifth dinner celebrating our return from vacation. We suspect that we are involved in a DIRHA, Arabic for "circle," which means that when an Arab gives a dinner for a returning friend, the main members attending then give dinners for the same friend. We have 'undercover" word that this is the last or almost the last dinner, and hope so, for although they are fun and appreciated, enough is enough – and I feel embarrassed at having my boys, whose earnings are small, spend large sums to give me dinners to which 100 to 200 attend. There have been 10 to 12 American couples and the rest employees, local custom officials, police, Arab Airbase officials, etc. The speeches would warm the cockles of your heart, and they are truly complimentary remarks about Americans and particularly us!
I didn't forget your birthday, Sister [Alice Jenner, in Greenwich]. Many happy returns on the 25th and enclosed some stamps that may be of interest. Will make up for the lack of material things one of these days.
Last week, I took off for a Northern trip by air, in a five-passenger Beechcraft with several of my staff. We left at night, flew 40 minutes to a wildcat drilling camp at Abu Hydrya [Editor's note: this was my grandfather's spelling. This may be 'Abu Hadriyah' today], made several decisions on the drilling, and flew 25 minutes to Nariya Pump Station, which is on the 30-inch line to the Mediterranean. Stopped only to drop two personnel men, flew 30 minutes to Wariya – a booster station on the same line. Made a careful check of all operations and looked for a site for another large pumping unit. One American and two Arabs are here, and it is lonesome way out in the desert. They only stay there 22 out of 28 days, so it isn't too bad if you like it. Had some very fine doughnuts, Somali style, and coffee, then flew back to Nariya for detailed inspection and visit and lunch. Then 30 minutes to Ras El Mishaab Camp, the headquarters for offshore drilling at Safaniya, made a very detailed inspection, as we hope to abandon this site soon as drilling camp, but must operate living and feeding facility for next two years, while building a new 124-mile, 22-inch pipeline to Ras Tanura and a Gas-Oil Separating plant and pump station. Flew 45 minutes back and arrived home at 5 p.m. – after traveling 800 kilometers or about 485 miles. It would have taken about three days by car!
Today, we drove to Khobar, a nearby village, so Mildred could buy some blouse material. There is almost anything in cloth line there now, and prices not too bad. Women can get almost any clothes made – men, too. And American men's shoes are just in with a few women's shoes from the USA. Soon we shall not need to shop while home for most of our needs. While waiting for Mildred, I was approached by an old Arab who offered me almost any stones you ever heard of: pearls, diamonds, emeralds, Alexandrites, etc. Not being a stone man, in fact, I am "stone blind" to these street merchants, I didn't buy. Then we drove through several other villages, checked on Nejma [Susan's horse] at Hobby Farm, and found her in excellent shape, so came home to lunch and letters to you all.
Been to several dinners this past week, we had one last night here, and it looks like we'll have several a week, according to the list of company visitors expected. Such is the life of the "lonely" desert.
Love from us all,
Ken and Mildred
Dhahran, Saudi Arabia
November 9, 1955
Dear Folks:
Mail day again tomorrow. We just came in from the inter-district softball dinner and presentation of the trophy – which Dhahran won this year. Was very nice and nicest of all – it didn't last too long!
Had a letter from Judy today and she must have been in Greenwich part of last weekend. She was quite excited about the trip – just hope it didn't tire her out too much. Of course, she has always been able to fold up her long legs into the smallest possible space and go right to sleep. She had had her first "Pre-A" tests and did quite well: B-plus in English, A in German, B in French – a surprise – and had not received the other two. She seems very happy.
Susan's letter today was a bit sad. She is worried about her geometry and has been sick with a cold, but better when she wrote. The girl she wanted to bring home can't come – I had a very nice letter from her parents, but they felt she was already so far off and this was even farther. Besides, they wanted her to have the three weeks at the chalet for skiing and skating. It is just as well, as Susan would want to spend most of her days at the Hobby Farm and probably no one else would want to go as much.
Things have calmed down a bit and we have had a quiet week. Went to a dinner Thursday night and I went to the small children's ballet recital – very cute, on Saturday night – and to the Fall Tea Sunday afternoon. We have our guests invited for Thanksgiving dinner. We will have 12. Mim and Sam [Schultz] are going to eat with us, too, as they leave pretty soon afterward.
Susan's room has been painted – pink but not baby pink. A sophisticated pink. Think she will like it with the burgundy rug, dark grey-blue spreads and the cute print for curtains and dressing table skirt. As soon as they do some carpentry work in our room, we will paint it but will wait until after Christmas to do Judy's and the living-dining room. The paint makes me sick if we do it all at once. I have to stay in the house while it is being done. It has something in the paint to make it dry faster that gets my nose and head.
Our flower seeds and garden are coming up nicely. Of course, we have all sorts of plant pests now – didn't have any when we started years ago. Requires a lot of spraying. They replanted the entire front yard and it is doing very well.
No particular news. We are both fine, but half the Camp is having a virus trouble of sorts – mostly jippy tummy with aches and pains. I think Ken is working too hard, but HE doesn't! Seems to me he meets himself coming back half the time. Fortunately, he loves what he is doing. He has just been put on five committees, three of which he is chairman – besides all the regular stuff. He has turned over a lot to Ned [Scardino] but can't pass too much on.
Must leave you. It is late and we must go to bed.
Love to all,
Mimi
Dhahran, Saudi Arabia
November 16, 1955
Dear Folks:
We still have carpenters, plasterers, etc., in the house. They are changing the AC vent in our bedroom, which entailed knocking out part of a wall, the ceiling of our clothes closet, and several other things, but will be a big improvement when done. Also, we have knocked out the partition between our closet and Susan's to make a big one for us. They built a very lovely clothes press in her room – louvered doors and all. Our closet has always been too small since we had the bath put in the two original closets years ago. Today they are tiling the shower stall in there.
This has been a hectic week. Last night we went to a nice party at Hamilton House for friends from Bahrein. They are old Port Arthur [Texas] people, so they gathered up all the old gang from here – very nice evening. He has been out here for 18 years – or rather in Bahrein – and now they are transferred to the New York office.
Tonight Ken goes to Ras Tanura to present a 30-year pin – a special request from a friend. I may stay home, as it isn't for wives, too, and I am not much of a one to go visiting at night alone. At 30 years' service you can ask anyone you want to present the pin – and this man asked for Ken. [Editor's note: I found a short write-up and photo of the occasion. My grandfather's friend was Mr. B.T. Butler. He and my grandfather had worked together at the Texas Company before joining Aramco.]
Our big old fat turkey is in the freezer ready for Thanksgiving. We are having 12 for dinner. Have most of the stuff in the house. Our frozen turkeys are simply wonderful – we think more so than the other types. They only buy the short broad ones for us out here – and they are wonderful and tender with so much meat!
We enjoyed letters from Tulsa and Greenwich this week and glad everyone is well. . .
For some reason, we are only getting one outgoing mail this week, so I am hurrying like mad to get the letters in this morning's mail.
Both girls are fine and busy. It won't be too long now till Susan will be home – about a month. Hope we can get through in the house before then. The ship with our effects is in, so we should be getting our things before too long.
Tomorrow the toy sale goes on. The Company brings in thousands of dollars' worth of things every year for the families to buy. Our girls are too old for most everything, except a few books and silly stocking toys. There is such a smash and jam, though, that I just might skip it. Did have a preview look-see yesterday and there are some beautiful toys – mostly from Germany.
Bye now. Must run or you won't get a letter for over a week.
Love to all,
Mimi
Dhahran, Saudi Arabia
November 23, 1955
Dhahran District Manager Ken Webster presents a safety award to Aramco employees in December 1955. From left: F.T. MacIntosh, Abdul Fatar Kabili, Ken Webster, Ed Nelson.
(Photo from Ken Slavin's personal collection. It also appeared in
The Sun & Flare
.)
Ken Webster's Aramco car outside the Administration Building in Dhahran, 1950s.
Ken and Mildred Webster's dear friends Mim and Sam Schultz were aboard this KLM flight that took off from Dhahran airport in December 1955 – heading out on Christmas vacation.
(News clipping from
The Sun & Flare
.)
Dear Folks:
Tomorrow is Thanksgiving again, and we would like to be with all of you for the turkey and all that goes with it.
Lucky us, the King arrived yesterday unexpectedly for five days on his way to India. We were invited to dinner with him tonight, but I begged off so we could get ready for our guests for dinner tomorrow. Possibly the Company will ask him to a dinner party Friday and we are all holding our breath that he will not choose Thursday and spoil the dinner in the dining hall for the bachelors, which is planned to be a real turkey spread for them.
Have been out quite a bit this week for dinner, and last Thursday went out to lunch and dinner. No let up on the entertaining of visitors. Plus [we have] going- away parties for Sam and Mim Schultz who leave December 4. Hope the KLM plane is on time at 10 a.m. when they go, as it has been 18 hours late the last two weeks and departed about 3:30 a.m.
It is 9 o'clock P.M. here now and Judy should be just about leaving Middlebury for Greenwich. We have read about heavy snowfalls in New England and hope she has no trouble driving down.
Last month our production was over one million barrels per day, and last week 10 babies were born, both being new records. The temperature these days averages 92 high and 60 low, with grand evenings, and we do so enjoy them. Outside last Thursday at 12-table dinner, and at halfway mark, the men at each table moved to the next one, and the girls stayed put. It gave a better chance to meet more of the guests and was fun.
Last Wednesday I rushed up to Ras Tanura at seven, gave a 30-year watch and pin to one of my men. He has been here for most of the past 15 years and his family of twin teenage girls and a teenage boy came out in '46. Now all are married and living in Arabia and have together 10 children! The son and two sons-in-law were at the dinner. What a nice family they make.
Finished the painting of our bedroom and bath yesterday and moved back in today. New linoleum on the bathroom floor and counter, new figured shower curtain, new maple headboard made by friends in shop, and closet down both sides. With new bed lamps, it looks very nice. Our things arrived from the USA, just 63 days from when we took them to New York, and we have dining room rug down, but must alter hall rug. Louis is thrilled with the new lawn mower and the spray hoses. All in all, we are ready for guests on the morrow.
No real news from here. Will be glad to see Allyn and Lynn back and hope they had a good trip and vacation.
Our best wishes to all of you on Thanksgiving and we'll be thinking about you.
Love to all,
Ken
Dhahran, Saudi Arabia
November 30, 1955
The cover of José "Frenchy" Arnold's legendary book about his experiences as chief steward for King Saud, "Golden Swords and Pots and Pans."
José "Frenchy" Arnold, an Aramco employee in Arabia, was a friend of the Websters and who was a guest at their Thanksgiving dinner in 1955. Ken Webster described him as "a total scream." He became chief steward to King Saud and wrote a book about the experience. (Press photo from Ken Slavin's private collection. This photo was purchased on eBay and shows Mr. Arnold at a 1957 New York City banquet honoring King Saud at the famed Waldorf-Astoria Hotel.)
Ken and Mildred Webster write of King Saud's visit to the Eastern Province in 1955 – and how Ken made arrangements for a long stay for the King's extended family, who were hosted by Aramco.
(Clipping from The Sun & Flare.)
Dear Folks:
Not much in the news today, but will write as cannot send another letter until next Wednesday night's mail going out.
We have mail four times a week into Arabia now, but only Wednesday night and Thursday P.M. going out. Mail goes out only via TWA who have two planes per week. One comes Thursday, then on to India and back at 1:00 A.M. Thursday. The second comes and goes out Thursday at 6:00 P.M.
All is well with us and apparently with Susan, too, but didn't get a letter this week. Probably will hear on Friday. From weather reports, you folks on the East Coast must be having real winter, while we are having what amounts to a warm spell for this time of year.
Tonight I was master of ceremonies at a retirement party for one of my men who came here just after I did. A nice affair with men and wives of his closest friends. We seem to be having quite a few such parties, which is going to continue for a few more months. Many of our gang being retired at 60 will have many years of work at home in some work they choose but will be with their families, grandchildren, etc.
Had two nights out this week for dinner, and will go Friday with the Schultzes and two couples to dinner at the Officers Club at Airbase, having probably good old American steak.
The King is in India, but 25 female members of the Royal party are visiting us. They want many items of food and other services. They do not live with us anymore but stay about 20 miles away in guest facilities of the local Emir. The King and party are due back in about 10 days to two weeks but plan to stay just for refueling and lunch. We never know until he leaves how long he will stay, but we are glad to see him - and some of the entourage are personal friends of mine. Looks like they stopped giving out watches, etc., so guess I received mine at the right time! My next one will be a 30-year watch in about five and a half years and will get probably a DateJust Rolex in gold and buy a gold band for it. Together, they retail here for $575. (Editor's note: In fact, my grandfather ended up receiving an engraved 18-karat gold Constellation Omega with a matching gold band. His 30th-anniversary ceremony was at the Metropolitan Club in New York in 1961.)
With the girls gone we have decided we do not need two boys, especially as we dine out so much, so we let Francis go to work for four bachelors I know well. He just started today so we'll wait and see. It will save us $100 per month and we really don't need the second one. What we'll do when Louis goes on vacation in two years I don't know, but guess we can pick up help from the Company guest houses for a few hours per day to clean and maybe do the dishes. Then would be the time we would like to have an automatic dishwasher! The new mower and hoses are grand and the yard is much easier for Louis and me to keep than before.
We are breaking all past records with oil production and shipping this month – but I don't have the figures yet. They will be well in excess of one million per day for the entire month. Our district made a new safety record this week, with our largest division going over a million man hours with a lost time accident. This is the twelfth large division or department to do this in the past 11 months. No other districts have even come close to us and it is by far the best year in our history. Safety is preached daily by and to all employees.
Last Thursday we had a buffet Thanksgiving dinner, with guests totaling 11 to 13 of us altogether. The Killians, the Schultzes, and the rest bachelors, including Jose "Frenchy" Arnold, the one who owns the Lodge in Ogunquit, Maine. He is Swiss and a perfect scream! He has been on loan as a special cook to the King's household and told us many amusing things about his months there. (Editor's note: Mr. Arnold became chief steward to King Saud. In 1963 he published a book about his experiences: "Golden Swords and Pots and Pans." Reviews abound on the internet – but the book is currently out of print. From the book's dust jacket: "When José Arnold took a job with Aramco in Saudi Arabia, he did not expect to find himself acting as luncheon host to Crown Prince Sa'ud at a construction camp in the middle of the desert ...In this delightful book, Mr. Arnold recounts his hilarious adventures as an 'infidel' in the desert domain of the world's most absolute monarch.")
It was a fine evening, we ate on the patio, and had all the fixings. We do hope you all had a good Thanksgiving. Ours would have been complete if the girls had been with us, but we know Judy was in good hands and Susan must have had a turkey dinner as they always have had such at Brillantmont.
Our Company rug layer came last night and cut the rug to fit the foyer, the new picture frames came, the paint smell is gone from our room and closet, and we almost have the house settled the way Mildred wants it. We will paint the living room, Judy's room and kitchen, etc., after Christmas. It only happens every two years, so it is not too bad and definitely worth the trouble.
My driver's license came today, boat mailed, mailed September 22, so I am fixed for another three years. The Schultzes leave December 4 and we'll miss them. Allyn and Lynn will soon be back and we'll get first-hand info from home.
All is well, hope so with you all, will write again soon.
Love to all,
Ken
Dhahran, Saudi Arabia
December 8, 1955
Dear Folks:
Goodness, the days are surely crowding me! I seem to have been so busy lately I can't get all the things done I keep working on every day. Here it is the 8th already. I don't even have my Christmas cards written yet!
Mim and Sam [Schultz] got away Monday after a 26-hour delay. They left on KLM for Karachi, Bangkok, Hong Kong, Tokyo, Honolulu and San Francisco - across to N.Y to spend Christmas with Fran and David. (Editor's note: Fran was the Schultzes younger daughter, married to David Skory.) Anna [the Schultze's other daughter] will be there from her school, too. Wonderful trip and at such a good time of year to be traveling those places. We will miss them terribly. Right now I am holding down the fort of the Texas gals. Lynn is gone – Daisy and Bill [Cooper] are in Ceylon – Verdel and Carl in Africa and Mim and Sam en route to Pacific.
We have been working almost daily on APAR Christmas stuff to sell – or rather it was sold as fast as we could make them – they were Christmas stockings all appliqued in felt with all sorts of patterns on them. Some job! So far we have made $600.00 on them, but if I have to sew a small piece of felt in any shape on anything for a long time, I will blow up! The idea sort of snowballed on us and there weren't too many you could depend on to work – as usual.
This is our [Palestinian] refugee charity money besides the baby nightgowns we make by the millions – out of scraps and donated materials – hand-knit baby sweaters, blankets and pajamas for 10-year- olds in the hospital in Jerusalem. Most of it goes to UNRA in Beirut and to various smaller organizations in Jordan, Jerusalem, etc. Then we send cash donations to certain smaller organizations and hospitals. Right now we have $2,000.00 in our account. (I'm treasurer.) It is amazing how much we get done.
From Judy's letter, she had a wonderful Thanksgiving. Susan had turkey and trimmings, too. Ours was very good, also. Was such a beautiful evening that we ate on the patio. Susan will be in the 22nd and let's hope that KLM isn't 26 hours late! It was last year and they didn't arrive until the morning of Christmas Eve. We are thankful to have one coming home – will miss Judy, but that is the way it goes. They have to go sooner or later. She is so happy and we feel relaxed about her knowing she is near family that there is someone to take care of an emergency – if any. We are still undecided about Susan for next year.
With just one Boy, I do more in the house but really enjoy it. We are having a large dinner party Saturday night but I hope to get much of the cooking done tomorrow. Louis is very good and cooks fine for the usual run of days. I do all the shopping, which is time-consuming – have a class from 9 to 12 on Sundays – APAR all day Mondays – now everybody is giving their Christmas parties – Susan's room is finished and we think very nice. I made the dressing table skirt and stool cover this week.
Our dining room rug looks very nice and is an improvement. Our bedroom is very snazzy now with the lovely headboard we had made here – and the brown spread – plus the copper pictures.
Must get a letter written to Judy and it is almost mail time.
Best love to all – thanks for the letters.
Mimi
Dhahran, Saudi Arabia
December 14, 1955
Wednesday P.M.
Allyn and Lynn Webster outside of their apartment in Ras Tanura. Allyn was Ken Webster's brother and worked in Aramco's maintenance department.
(Photo courtesy Lynn Webster.)
Ken and Mildred Webster bought tickets for their daughter, Susan, to hear world-famous pianist Jose Iturbi during the 1955-56 Christmas holidays. (Newspaper clipping from Ken Slavin's personal collection.)
Dearest Folks:
This will be the last letter you will receive from us before Christmas and we hope you do get it and our cards, too. The mail goes out at 7 P.M. tomorrow and should be in New York by late Friday and at your homes by Monday. Our greetings, therefore, will be a little early, but we trust ahead of the DAY, and we send you the best of the season for a fine Christmas. How we wish we would be with you all, but you "plays your money and you takes your chances," and as the wheel spins, we find our number way out East here.
Tomorrow and Friday I shall erect a nine-foot tree in the yard and place lights on it and around the eaves of the house. We have a large box of outdoor decorations and plenty for our inside tree. We shall have our little family of Susan and Lynn and Allyn, and maybe a Stranger at the Gate, dine with us on Christmas Eve and shall miss our big girl Judy. I know she will be in good hands, but this will be our first Christmas apart, except for the two when I was here alone in 1944-45. Christmas morning we must get up fairly early, have our TREE, and breakfast before the usual Arab guests arrive to greet us. We go to them on Eid-el- Fitr, which is their end-of-month of fasting, and they come to us on our Christmas. Then we'll have a visit from Lynn and Allyn and will drive about to see others – but no eggnog this year.
Lynn and Allyn arrived on schedule, last Monday, and show they had a good vacation. They stayed with us for two days, but are in their own place tonight. They brought us up to date on the Connecticut families, news of the floods, etc. We are glad to have them back again.
All this month the Youth Recreation Committees of parents have had a program for the kids of all ages and will climax it with a long program Friday the 23rd, giving gifts to all the kids under 12. That night will be a dance for the 7th, 8th and 9th grades with all the high school kids from Switzerland, Italy and Beirut, and a New Year's Eve dance, too. There are many public functions from Christmas through New Year's for the adults and the usual Nativity Story out under the stars on December 20. If all goes well, we shall go with a group to Bahrain Island by Company plane for an annual party, returning same night, and Mildred and I may go early to shop there first. The weather is excellent and should continue, being a little cool at 50 in early A.M. and up to 74 in afternoon. I won't mention our HEAVY rains this past week, as two inches is much for us, but not to you in Connecticut! No harm done, but nasty for two days.
On January 3 and 5, Jose Iturbi will be here to play for us, which should be delightful. We intend to take Susan. (Editor's note: Jose Iturbi was a hugely famous musician from Spain. According to Wikipedia, "José Iturbi Báguena (28 November 1895 – 28 June 1980) was a Spanish conductor, pianist and harpsichordist. He appeared in several Hollywood films of the 1940s, notably playing himself in the musicals, Thousands Cheer (1943), Anchors Aweigh (1945), That Midnight Kiss (1949), and Three Daring Daughters(1948), his only leading role.)
Susan arrives a week from tomorrow, Thursday, December 22, and I guess we shall move to the Hobby Farm for a few days so she can be with Nejma. She should be here about three weeks and then all will be quiet again – TOO QUIET. Louis has been sick for two days and I hope comes back tomorrow. We are all well and happy and hope all of you are, too.
Again, MERRY CHRISTMAS TO ALL OF YOU and we'll tell you in our next [letter] all about Santa Claus operations here.
Love,
Ken and Mildred
Dhahran, Saudi Arabia
December 23, 1955
As always, Susan spent every spare moment with her horse, Nejma, at the Hobby Farm.
(Photo by Mildred Webster.)
When Susan Webster came home from her Swiss boarding school for the Christmas Holidays, she requested that her mother make fried chicken for her return dinner - a family tradition that endures to this day with Susan's children and grandchildren, using Mildred's recipe and technique.
(Photo – and fried chicken – by Ken Slavin.)
Dear Folks:
Just didn't get to write to you this week in time for the Thursday mail and will have to find some way to get this from Arabia, as our planes skip the Christmas weekend, but our intentions were good and we are with you as Christmas draws near, in spirit if not with spirits. (Royal Decree #79 prevents.)
This past week was a hectic one getting last-minute chores done, Louis still in hospital with probably a kidney stone if he didn't pass it, me putting up lights, trees, running errands, last-minute shopping, trip to Bahrain Tuesday (with Mildred) for shopping and annual Aramco party with our agent there, finishing decorating Susan's room (and it is nice and she raves about it), getting the turkey, etc., etc., etc.
This year I had a nine-foot false tree for outside, with lights on eaves of house on two sides and front, the small tree inside, lighted wreaths in front windows and it all looks very nice to us and compliments already from passerby spectators.
Then down to airport yesterday at 5 P.M. to meet Susan, who arrived in Spanish heels and was taller than me. Custom Director took us through in record time with very little dutiable items NOTED, then to Hobby Farm to say hello to Nejma, then home so while she unpacked I could go back to airport to get girl her age on TWA from Geneva whose mother and father are both in hospital with broken kneecaps and bruises from a car accident. Took her to hospital to see them, then back here for dinner.
Dinner was, of course, FRIED CHICKEN for the young one – BINTI SAGUIR. (Editor's note: This is a Swahili term of endearment. The Websters' houseboy Louis was from the Sudan and called my mother "Susie Baba" and "Binti Saguir." My grandmother taught Louis how to fry chicken and my mother always requested it for dinner on her first night home from any trip.) Much talk and then drive around town to see the lights, etc., then to bed. Today, of course, was set aside as "See the Hobby Farm" Day and Susan rode about four hours. We shopped a little, I worked a few hours in office, then to The Rendezvous for dinner, then home while the girls dressed, I visited my barber friend for a trim, Mildred wrapped packages, etc.
At 8:30 P.M. six girls came in for Susan for the Youth Recreation Teenager Dance and we are home quietly doing our chores, writing letters, and planning the next few days of activities. Our former cook, Francis, came with a cake for "Baba Susan" and with help arranged for Mildred should get friend TURKEY properly stuffed and ready.
After a few months of too quiet period we are suddenly beset by a period of door slamming, telephone ringing, groups of girls in and out, and confusion reigns while we wait on the queen. Mildred always said there has to be one LADY in each family and Susan is ours, bless her heart. Service is wanted NOW and we give what we can. Don't know yet if she will stay three weeks or four, but at least three. It will be a happy time for us, but sure miss Judy at Christmas time. She is in good hands, but we wish she were in ours.
Have a huge stack of Christmas cards, mostly local, and as usual many from Arabs, Indians, Palestinians, etc. We only send a few to USA and none locally, as I'd have to send several hundred at least. Days are hot and dry, we hope for cooler days starting tomorrow, but no forecast. Hope the reported cold snap in USA is over by Christmas for you folks. This is really the Banana Belt and Susan stifles here after Switzerland, as does Mildred.
Again, Merry Christmas and Happy New Year to you all, and we'll tell you about our Christmas in our next.
Love,
Ken & Mildred
P.S. from Mildred: Our thoughts are with you – hope you have a wonderful Holiday and coming year.
Dhahran, Saudi Arabia
December 28, 1955
Dear Folks:
Here is hoping all of you have a very Happy New Year and that it brings forth all your wishes, the best of health and wealth.
Christmas seems to have sort of slid by and I have to stop and think that it is over! It was a bit hectic around here, but nevertheless, and as usual, it was a very good one for us.
We went to Bahrein Tuesday morning the 20th – did a little shopping – had lunch with our friend Mohammed Kanoo, then went out to Awali (Bapco Camp – 15 miles from Manama) to visit with old friends from way back whom we had not seen in many years. They just arrived in Bahrein one man to be the head replacement, the other his assistant. Had a grand gab fest then drove back to dress for the formal dinner at Aramco House – the annual Christmas party. Came back the next morning all in a rush with so much to do before Susan's arrival Thursday afternoon late.
Louis has been in the hospital for two weeks, expecting to get out every day so I didn't get in any other help, but now it looks like he will be out tomorrow. I don't mind doing the work, but it could have come at a different time! I wasn't used to doing all the housework and the cooking, too. Must say I rather enjoyed the cooking, but can't do it and do anything else on the outside. We have made out just fine, but didn't realize how much I depend on Louis.
Christmas dinner was good, even if I do say so myself. But we just had Lynn and Allyn, Susan and a girl who came in from Suisse whose mother and father were in the hospital with broken legs – an auto accident. Ginny didn't know anything about it so we met her and kept her with us till her mother could get out in a cast. They are with the Government and live in Dammam. Her father is still in [hospital] and will have to have surgery on the kneecap. We bought Nejma [Susan's horse] from Ginny
Old Santa was more than good to us and for the first time, we opened presents on Christmas Eve. We always have Arab callers all morning Christmas Day and so it worked out better this way. Can't list everything, but my biggest present was a lovely set of leopard: hat, purse, belt and ascot scarf – from Africa. They are just handsome and from Ken, of course. Susan brought us a lovely Dresden figurine. I am always overcome!
We missed Judy so much but it was wonderful having the tape recording – except it almost made me bawl! Susan looks wonderful – has grown another inch at least, but has gained some, too, and is happy and busy as can be. She has spent most of her time at the [Hobby] Farm. There is a gymkhana Friday. I honestly believe that horse remembered her after eight months. There have been several parties for the kids and we have had our usual ones, too. Don't know just what we will do yet for New Year's – several ideas.
Know you had a wonderful time for Christmas and wish we could have peeked in the window. We thought of all of you and maybe we can have a Christmas together someday again.
Best love to all,
Mildred