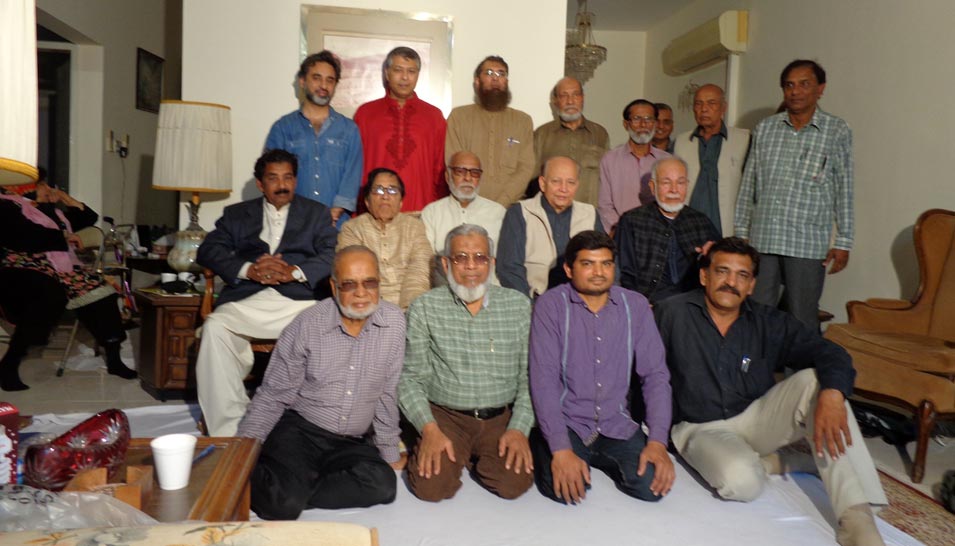 Front Row from R to L: Guest - Almas Arif, Engr. Iqbal A. Khan, Mohammad Abdul Matin
Middle Row from R to L: Syed Mahmood Ali, Dr. KY Siddiqui (The Host), Raziuddin Siddiqui, Saeedul Kabir, Ustad Saleem Khan
Back Row R to L: Khaleel Qureshi, Iqbal Jafri-Mushtaq Ahmed, Waheed Khan, Mohammad Ikhlaq, Khalid Hasan, Abid Hasan, Abrar Arif
On Sunday, February 12, Dr. Khawaja Yousufullah Siddiqui, an ex-employee of Saudi Aramco Medical Organization, Dhahran organized a Family Musical Program at his residence. Dr. Siddiqui lives in United Kingdom and is currently on a visit to Pakistan. In order to brush his old memories and meet with his Family Members and Friends, he organized the event.
Few old friends from Saudi Aramco were also invited and attended the function. A group of five old buddies were present in the event and they are:
Syed Mahmood Ali
Mohammad Abdul Matin
Shafiq Ahmed Khan
Khawaja Yousufullah Siddiqui
Engr. Iqbal Ahmed Khan
Front: Samina Jawad, Mrs. Mah Noor Siddiqi, Mrs. Zahida Mehmool Ali, Rajia Mushtaq
Back Row: Mrs. Abid Hasan, Mrs. Khalid Hasan, Aiysha Abrar
All the singers were armatures except Ustad Salim Khan who is teaching Sitar in the Arts College Lahore. He came all the way from Lahore to attend the function. The singers who participated are as follows:
Mr & Mrs. Khawaja Yousufullah Siddiqui
Ustad Salim Khan - Sitar Professional
Ustad Khaleel Qureshi
Syed Mahmood Ali - Ex-Aramco
Saeedul Kabir - Ex-Deputy General Manager Pakistan Steel
Mohammad Ikhlaq
Iqbal Jafri
Abid Hasan
Abrar Asif
Khaleel Qureshi
Ustad Yousuf Habib - Harmonium
Almas Arif - Tabla
The event started with a delicious lunch, followed by the Musical Program.  All Attendees enjoyed the event.
Videos of Family Musical Program
Family Musical Program Part 1
Family Musical Program Part 2
Family Musical Program Part 3
Musical Program Participants