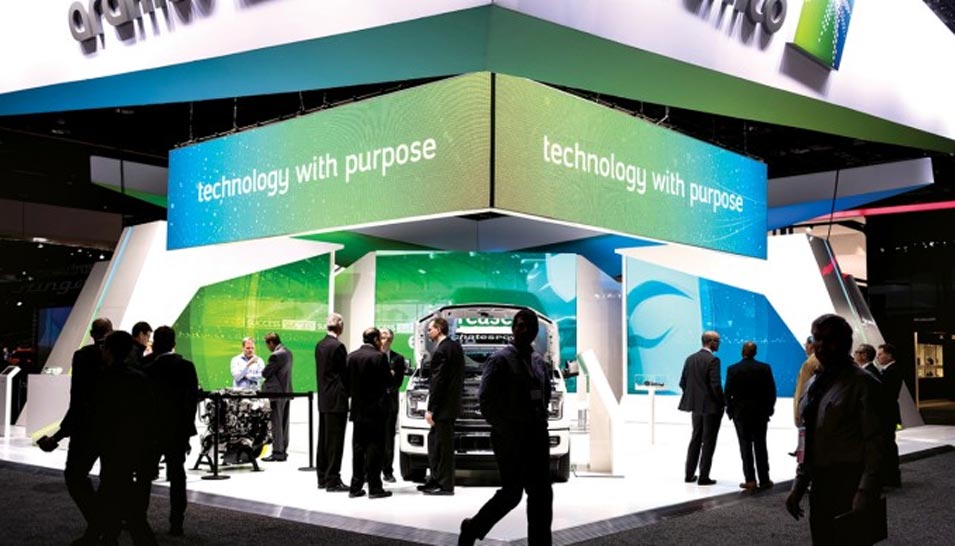 Engine efficiency and new technology
Saudi Aramco's chief technology officer
Ahmad O. Al-Khowaiter, here being interviewed
by MSNBC, said participating at the Detroit auto
show was an opportunity to share advancements
in vehicle technologies to reduce emissions,
improve fuel efficiency, and increase engine
performance.
Saudi Aramco's gasoline compression ignition (GCI) were one of the special feature at the Detroit auto show last month, showing how internal combustion engines have harnessed unparalleled energy density of hydrocarbons, transforming the world and powering economies to new heights.
As part of their work to build the most advanced GCI engines anywhere, Aramco researchers are leveraging the physical and chemical properties of gasoline and gasoline-like fuels along with innovative combustion approaches to substantially lower emissions.
A central message at the event was that the internal combustion engine is here to stay, efforts to cut global emissions must focus on increasing the fuel efficiency: With hydrocarbons – whether fossil or renewable based – meeting 99% of the world's transport needs, Aramco outlined the importance of the company's work on greater engine efficiency and new technical advances enabling the onboard capture and storage of carbon.
At the event, a Ford F-150 displayed at the Aramco booth showed a collaboration with Achates Power on an opposed-piston GCI engine concept — reinforcing the viability of the technology and its efficiency at an estimated 37 miles per gallon.
The North American International Auto Show — one of the largest auto shows in the world attracting more than 5,000 media attendees, 40,000 industry professionals and 700,000 consumers is an important venue for discussions surrounding the many technology advances taking place in the automotive industry.
Also in the spotlight was Aramco's mobile carbon capture program. In this research area, a novel exhaust system captures and stores the carbon dioxide (CO2) onboard the vehicle for later offloading and use in industrial and commercial activities. A particular area of interest for Aramco is heavy-duty trucks, which represent some of the heaviest polluters in the transport sector. At the show, Aramco reaffirmed our goal to further advance mobile carbon capture to demonstrate a 50% reduction in CO2 emissions by year-end.
Octane-on-demand, another highlighted Aramco technology, drew attention at the show for the power and performance it can offer through a two-fuel system — a high-octane fuel for conditions that require it and low-octane for normal driving conditions.