The Saudi Aramco Retiree Golf Group held its first event this year at The Woodlands Resort in The Woodlands, Texas October 19-23, 2020. The event was originally scheduled for April 19-23, 2020, but the virus squashed those plans and was moved to October with the group adhering to CDC guidelines to allow holding the event. The event was hosted and organized by local residents Mel and Marti Knotts and Brian Hoegsberg and by the golf group's organizer Mike Haas. A full week of fun-filled activities included 3 rounds of golf at The Woodlands Trails Panther and Oak courses and at The Woodlands Country Club Tournament course that hosted the Shell Open PGA tournament for many years. The evenings included an "Ice Breaker" at The Woodlands resort, fine dining at Tressie's Southern Kitchen that is owned and operated by Mel and Marti Knott's and dinner at The Woodlands CC Tournament course at the conclusion of the Wednesday golf round. Daytime activities for the non-golfers included reuniting with old friends, shopping excursions and various local activities.
There were 40 golfers that included (from L to R):
Back Row: Jon Grosch, Jim Aceto, Jimmy Phillips, Darryl Shields, Brian Hoegsberg. Gregg Skinner, Phil Gagnard, Karl Hilton
Middle Row: Mel Knotts, Liz Wilder (guest), Ronnie Norvell, Paul Haas (guest), Thomas Hogan, Garth Jahraus, Chuck Baldwin, Mike Auflick, Dean Warnken, James Durley, Monty Gilleland
Front Row: Brad Coy, Rick Sutton, Dan Thost, Les Fowler, Tim McGhee, Steve Kimball, Brian Clement, Don Nims, Mike Haas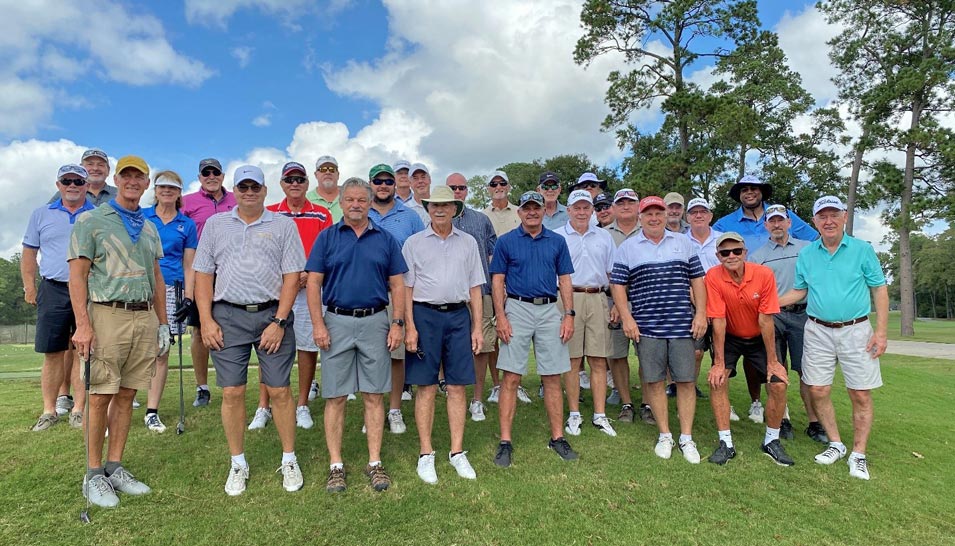 Not included: Ike Bellaci, Jon Cavanaugh, Royce Crawford, Taichien Dickerson, Kent Fowler (guest), Jeff Hancock, Robin MacDonald, Don Marshall, Ken Pitts, Jim Platt, Bill Weibel, Warren Wilder
Dinner at Tressie's Southern Kitchen in Magnolia, Texas owned by Mel and Marti Knotts was a special event with the restaurant reserved for our group and a special menu to enjoy the finest Southern cuisine that Texas has to offer. Matt Knotts (Mel and Marti's son) is the chef and there were so many comments about how good the food tasted so if you are in that area, be sure and stop in for a meal.
The following photo includes golfers, spouses/partners and guests (from L to R):
Back Row: Yale Logan, Bryan Clement, Gregg Skinner, Brad Coy, Mike Auflick, Dean Warnken, Yvette Hoegsberg, Brian Hoegsberg, Denise Jahraus, Garth Jahraus, Jeff Hancock, Dina Hancock, Sue Hertlein (visiting from Saudi Arabia), Thomas Hogan, Meg Russell, Duffy Russell
Middle Row: Karl Hilton, Kelly Hilton, Jon Grosch, Cindy Grosch, Gayle Baldwin, Chuck Baldwin, Jon Cavanaugh, Cindy Cavanaugh, Robin MacDonald, James Durley, Monty Gilleland, Jana Gilleland, LeeAnn Platt (visiting from Saudi Arabia), Jim Platt, Katharine Russell, Phil Gagnard, Jimmy Phillips, Mel Knotts and Bill Weibel
Front Row: Arleen Haas, Lucy Haas, Mike Haas, Mickie Haas, Paul Haas, Janel Thrash, Shayne Skinner, Marti Knotts, Tim McGhee
The following photo shows the early golf groups as they prepare to load their golf carts and tee off at The Trails Oaks course on Thursday.
Pictured (from L to R): Thomas Hogan, Taichien Dickerson, Phil Gagnard, Tim McGhee, Garth Jahraus, Gregg Skinner, Jon Cavanaugh, Mel Knotts, Jim Aceto (Taichien traveled all the way from France via New Jersey to visit family and to join his Aramco friends and was very gracious to supply freshly baked doughnuts to everyone for the two morning tee times.)
Below (from L to R), Don Nims, Darryl Shields, Jim Aceto and Robin MacDonald celebrate winning the team event on Thursday at The Woodlands Trails Oak course with 86 Stableford points counting the best two-ball score per hole for the 18-holes.
Ken Pitts (3rd from left) was crowned the top golfer for the event, Robin MacDonald (far right) was last trip's winner at Sarasota, Florida, Mel Knotts (far left) The Woodlands host and Mike Haas (2nd from left) the event organizer.
This Saudi Aramco Retiree Golf event was a great opportunity to spend time with our retiree friends that traveled long distances to play golf and visit. The next event is scheduled during April 2021 in Dallas, Texas with details by year-end. If you are interested in attending, please contact Mike Haas at mdhaas@attglobal.net or mdhaas51@yahoo.com.