by Janet Pinheiro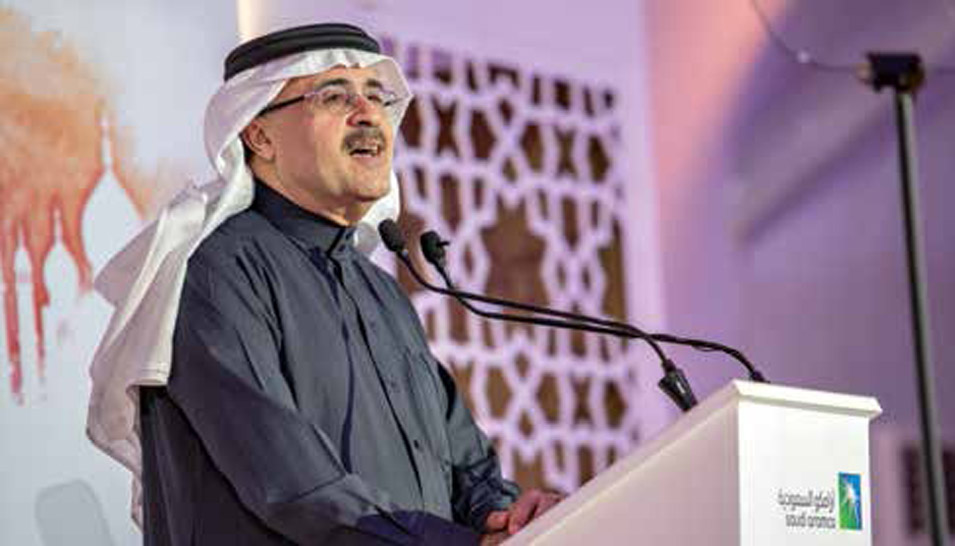 Amin Nasser welcomes Saudi Aramco annuitants from around the world during a dinner ceremony held in their honor in Dhahran.
Nasser highlighted some of the many changes that have occurred since they worked and lived in the Kingdom. (Photos: Mohammed AlShaikh/MPD)
Dhahran — "Welcome back to your desert home" was the warm greeting from Saudi Aramco president and CEO Amin Nasser to the approximately 500 Aramcons who traveled from all corners of the globe for last week's formal dinner held in conjunction with the fourth reunion of retired employees and their dependents.
Inside a spectacular marquee erected under the cool twilight shadow of the King Abdulaziz Center for World Culture (Ithra), a white-linen banquet of modern Saudi cuisine was served to the 800 invited guests, which included the company's current and former management.
Arabic coffee fragranced evening air, and a group of Saudi men dancing "Al Ardha" greeted the arriving dinner guests' celebration of memories and friendship.
A contrasting display outside the marquee of classic cars from the 1940s to 1970s brought memories alive for many of the retirees, while inside soothing background piano music played.
After a formal introduction by Saudi Aramco firefighter Jazyah E. Aldossary, and a recital by a solo violinist, the president and CEO stepped up to the speaker's podium and told the retirees they were "very important guests," adding that it was his privilege to welcome them back to Saudi Aramco.
Nasser said the reuniting Aramcons came back to spend time with their "extended Aramco family" and described the Aramco family as very special, "linked not by bloodlines, but by shared experiences.
"(It's) a special family that deserves Saudi Aramco's gratitude for your past contributions that has created an ongoing legacy," he said.
Aged 95, Johnnie Guyon, wife of company driller Raymond "Tex" Guyon, said "everything has changed" since she lived at Abqaiq for 20 years from 1948 to 1968. "Everything has become larger and more modern," she said. "Abqaiq was a little town, surrounded by a fence, which you reached by a paved road." Now retired in Las Vegas, Nevada, in the U.S., her fondest memory is of the people. "The people were wonderful. I never had an enemy with anyone." Johnnie was accompanied by her two "Aramcon" sons, Steve (right) and Charles (left) Guyon.
Fraser and Kathy Brown retired to Canada four years ago and said it was good to be back in Saudi Arabia to see the Kingdom, and meet old friends again. "Saudi Aramco is a special place. It's a very big company that is concerned about employees during work hours and afterwards," said Fraser. "My two daughters got an excellent start here and I have fond memories of camping in the Rub' al-Khali desert, and sailing around the patch of water at the Half Moon Bay Yacht Club."
Former consultant and Gas Operations Technical Support Division head, Khan Akmal expressed his gratitude to the company for allowing him and Yasmin to return to their home of 25 years. "I had the best career of my life, with the most challenging assignments," said the U.S. retiree. "Nowhere else in the world gives one the opportunity to extend oneself like Saudi Aramco does."
---
"I miss sunset barbecues at Half Moon Bay, shopping, and eating out with friends," said Linda Holloway (left), a laboratory technician with the Dhahran hospital until moving to the U.K. in 2004. "Through Saudi Aramco, I developed and expanded my laboratory skills, and I was involved in operating the blood donor clinic."
Retired for 10 years, former professional development training advisor and U.K. resident, Berni Wright (center), loved Saudi Aramco's workplace diversity: "It was a hardworking environment where so many different nationalities came together, and we all got on so well together, sharing the same sense of humor."
Former architect and U.S. retiree, Charlie Johnson, has 30 years of memories: "Creative work, terrific friends, great social life, and the chance to travel the world. Coming across the bridge on March 10, I felt like I was coming home."
King Abdulaziz Center for World Culture
Full of cranes and construction materials during the last in-Kingdom retiree reunion, when referring to Ithra, Nasser noted: "Today it is home to a building that Time magazine has called one of the world's 100 greatest places to visit. A cultural contribution that Saudi Aramco is very proud to have built for the Kingdom."
He thanked his "colleague and good friend" Abdullah S. Jum'ah, a former Saudi Aramco president and CEO, for his vision to build Ithra: "A lot of thanks and appreciation go to Mr. Jum'ah for this center."
Kingdom Transforming
Nasser commented that retirees would notice many changes in the community, company and the Kingdom as Saudi Arabia works on its transformative Vision 2030 program.
The audience reacted with spontaneous applause when he said, "Coming from the airport, some of you will have seen something you would not have seen before — cars on the roads of Dammam being driven by women."
Adding that other obvious changes included "theaters opening up, music concerts by top global entertainers, and worldclass athletes competing in the Kingdom," Nasser said that Saudi Aramco was also changing.
"Today, we are the only oil company in the world capable of producing more than 10 million barrels of crude oil a day," he said, and told the past employees they contributed toward the company's upstream strength.
"We are also working to elevate our Downstream business to the same level as Upstream," he said. "This is all part of our desire to become the world's leading integrated energy and chemicals company.
"By the time we are done, Saudi Aramco will still be a global leader in oil, but also in gas, in refining, and marketing, in chemicals, in base lube oils, and in energy-related technologies," he added.
Nasser thanked all those coordinating the reunion, saying it involved an "enormous amount of organization and planning."
Classic automobiles from decades ago greet Saudi Aramco retirees during a special dinner held in their honor last week. Approximately 500 Aramcons from around the world have traveled back to the Kingdom to revisit their past and see the many changes to the company and the Kingdom over the years.